If your reaction to the title was to scratch your head and wonder where we are talking about, you are not alone. Saba is one of the islands of the Lesser Antilles forming the boundary of the Caribbean Sea. It is only about 28 miles from St. Maarten and slightly closer to St. Eustatius. A former member of the now-dissolved Netherlands Antilles, it is now a special municipality of the Netherlands. Saba is a volcanic island rising from the deep. Mount Scenery, at 887 meters (2,910 ft) the highest point of the island and the entire Netherlands. The 13 square kilometers (5.0 sq mi) island has a population of only around 2,000. The island has a small tourism industry with only about 100 hotel rooms. Eco-tourism is the industry drawing divers, climbers, and trekkers. Saba is also known for their Spanish Lace and Saba spiced rum. Both outstanding.
"I think Saba is an optimal location for a dive vacation because of the variety of dive sites and marine life found here, and of course, this island is like no other! Just the other day I went diving and could hear humpback whales singing; not to mention the eel, stingray, groupers, seahorses, sea turtles, sleeping nurse shark, nudibranch, and many other fantastic fish that I saw that day With the option of diving deep water pinnacles, walls, sea mounts, and labyrinth lava flows, Saba has optimal dive sites for any level of experience. Because Saba is a volcanic island you can enjoy some "volcanic" action underwater as well, like the hot sand found in the dive site Hot Springs, where thermal vents release hot water creating warm patches of sand to stick cold hands in." Brianna Murray from Sea Saba.
1. Saba has no Crowds
Saba is not an international jet setter destination. While it does have a range of accommodations, tourist do not come here to be with other tourists. They come here to be with nature. The scuba diving is outstanding and trekkers enjoy the numerous trails around the island. There is no nightlife geared towards tourist getting drunk and crazy. The limited nightlife here is the same as the local experience. That is a large part of tourism here. You are treated like a recently found long lost cousin, not a walking wallet.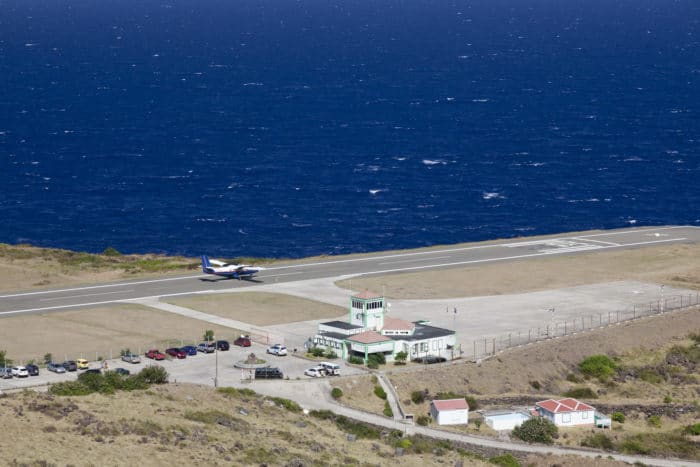 2. Out Of The Way But Close
Given the isolated unspoiled feel of the island, you might be a bit surprised on how easy it is to get to the island. St. Maarten has an international airport with direct connection to the United States, Europe and other Caribbean and South American destinations. There are multiple flights a day between St Maarten and Saba. These flights take less than 15 minutes. There are also seasonal and charter flights to nearby islands.
If you are on a tight budget, then a ferry from St. Maarten is another option. Two ferry services serve the island taking only about 90 minutes for the connection.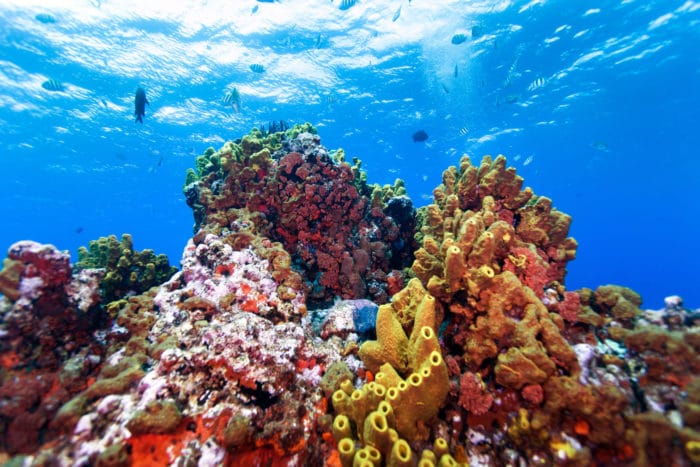 3. Great Dive Sites
The traditional dive site reviews list a few sites and tells you how great they are. The problem with doing that here is they all are great. The island is surrounded by the Saba Marine Park which has been providing protection for the reefs and marine life around the islands since 1987. The park extends from the shore to a depth of 200 feet plus any nearby seamounts that are above 200 feet. Since the island is the tip of a volcano, in places, that depth is only a half mile off shore. Also, since this is a volcanic island the reefs are built on rocks in most places giving some very interesting landscapes underwater as well as tunnels and caves.
The Pinnacles is an area that deep divers love. A pinnacles or seamount are underwater peaks that do not reach the surface. Here most of them reach to about 100 feet. There are five dive sites close together that reach to about 100 feet. Eye of the Needle is one of the 5 pinnacles dive sites. The Eye of the Needle is a great Advance Open Water dive as it reaches to 90 feet of the surface, with in range of AOW divers. All of the pinnacle dive sites are very rich with large corals and sponges which attract numerous reef fish. These fish, in turn, attracts the sharks and rays from the deeps.
The protective cove that forms between Wells Bay and Torrens Point is great for snorkeling and shallow dives. This area has a maximum depth of 80 feet. Diamond Rock is one of three dive sites in the cove. Diamond Rock dive site is near the edge of the cove and can be subjected to currents. This can create some great drift dives when managed correctly. This change of currents make this site the most marine life rich of the three sites. The area has some tunnels and canyons.
Ladder bay was the port before the current port was dredged and built. There is really no beach around the island as the shore line is very rocky. Before the new port was built, locals used to unload boats within this bay and carried the cargo up steps to the village high above. The steps appear more like a ladder than a true staircase. There are five dive sites in Ladder Bay. The Customs House is one of them and is about 65 feet deep.
The Tent Reef has four dive sites, one of which is called Tent reef dive site. The tent reef dive site starts in 14 feet of water with its deepest point 50 feet. This dive site is one of the best night diving spots with lobsters, turtles, octopus and other nocturnal marine life in large numbers. Another portion of the reef has the Tent Reef Wall dive site. This site has a small wall which drops to 80 feet.
The Windward side also has some dive sites. These sites are impacted more by the weather and sea conditions but when the conditions are favorable are an outstanding experience. Greer Gut is one of the Windward side dive sites. Greer Gut is a true coral reef. Most of the reefs around the islands are built up from the rocks, this one is not. The Windward side dive sites are mostly hard corals while the other sites are a mix with more soft corals.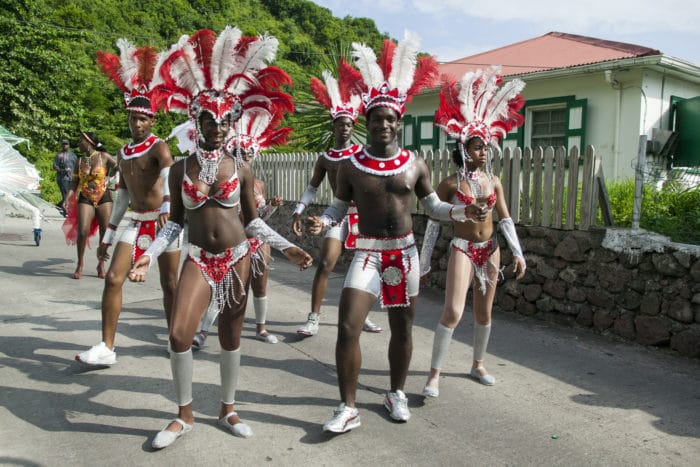 4. Bragging Rights
We all know that when a group of divers get together, we talk about our different dive experiences. Diving in Saba has great conditions, healthy reefs, and outstanding visibility. Divers come here to dive and to enjoy the outdoors and the culture. You get to meet the locals and are treated as a member of the family. There are three dive operators on the island and they each provide personalized service. There are no huge "cattle" boats unloading a hundred or more divers on a single reef. Most likely there will not be a hundred divers in the water at all of the dive sites. You will most likely have the dive site to yourself and a few other divers on your small boat.
Saba can provide you with that perfect dive, one that you will be talking about for years.
Contact the Saba Tourist Bureau (STB) to find out what awaits you, before some other diver starts bragging about diving there.
Get More Articles Like This!
Subscribe to our weekly newsletter and get more interesting stuff like this direct to your email inbox every Friday.