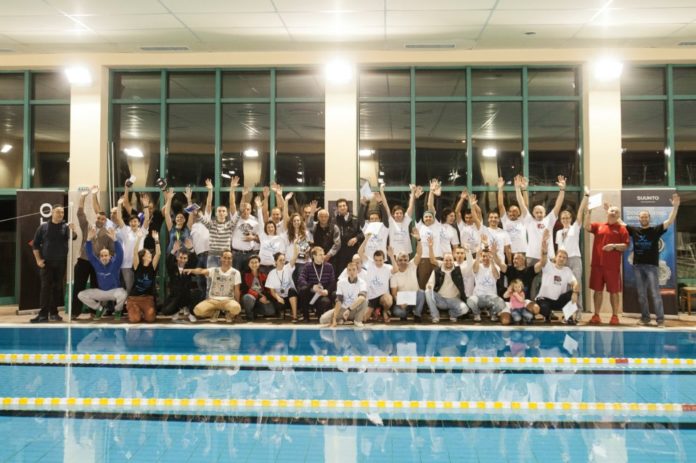 9 national records were broken at the first freediving competition in Bulgaria – the Sofia Freediving Cup 2012.
More than 30 competitors from 5 countries took part in the two-day event, held on on the 17th & 18th November 2012.  It was a first competition for almost all Bulgarian athletes, but still they received mostly white cards from AIDA Serbia judges Darija Subotin and Aleksander Karjuk.
Aris Ioannidis from Greece won first places in all disciplines with 175m Dynamic with Fins (DYN), 155m Dynamic No Fins (DNF) and 5min53sec Static (STA). He is the best male competitor and the first winner of Sofia Freediving Cup and a Suunto D4i.
The best female competitor is Ljubica Trutic from Serbia, again 3 first places: 138m Dynamic with Fins (DYN), 111m Dynamic No Fins (DNF) and 4min28sec Static (STA). She also got a D4i from the sponsor of the competition.
Overall, 9 national records were broken:
Men:
Danail Edrev 162 m DYN (Bulgaria)
Danail Edrev 135 m DNF (Bulgaria)
Adrian Lica – 107 DYN (Romania)
Erki Enkvist 118 m DNF (Estonia)
Erki Enkvist 157 m DYN (Estonia)
Women:
Rumiana Boeva 3:44 STA (Bulgaria)
Rumiana Boeva 100 m DYN (Bulgaria)
Viktoria Danova – 61 m DNF (Bulgaria)
Ljubica Trutic- 111 m DNF (Serbia)
The Sofia Freediving Cup was organized by Lubomir Stefanov, AIDA instructor and Level E judge, with the kind support from AIDA Serbia.  The event received great media attention – national TV stations, newspapers and radios- and was the first step towards establishing freediving as a sport in Bulgaria.
Get More Articles Like This!
Subscribe to our weekly newsletter and get more interesting stuff like this direct to your email inbox every Friday.