The Bahamas archipelago is made up of more than 700 paradise islands, islets, and cays. All of these, with the exception of Grand Bahama and New Providence (the largest and most heavily populated of The Bahamas' islands), are collectively classified as the Out Islands. Only 14 of the Out Islands are inhabited, and in this article, we take a look at five of the best destinations for divers. With water temperatures that average 24ºC/ 75ºF in winter and 30ºC/ 86ºF in summer, diving in the Out Islands is positively balmy. Rainfall is quickly absorbed by the land's porous limestone core, resulting in very little run-off. As a consequence, the visibility here is unparalleled.
Cat Island
Named after the pirate Arthur Catt, Cat Island is located approximately 130 miles/ 200 kilometers southeast of Nassau. With a population of just over 1,500 people, its idyllic coves and rolling hills are largely uninhabited. Many divers come to Cat Island for its famous oceanic whitetip safaris, which offer the opportunity to dive with the iconic apex predator in dizzying deep blue water. Other pelagics are often seen on these dives, including tiger sharks, silky sharks, tuna, mahi-mahi, and Marlin. Oceanic whitetip diving is seasonal, with the best months being April and May. Cat Island also has several rewarding reef sites, inhabited by turtles, dolphins and inshore shark species. For wreck divers, there's the Santa Maria Teresa – a Spanish battleship sunk in 1898.
Long Island
Located south of Cat Island with the tempestuous Atlantic on one side and the tranquil Caribbean on the other, Long Island is a low-lying strip of land known for its excellent bonefishing and diving opportunities. It is home to Stella Maris, one of the oldest dive centers in The Bahamas. The center pioneered the nation's shark diving industry, and its Shark Reef dive promises close encounters with Caribbean reef sharks. The center also offers dives on the Comberbach, a well-preserved freighter wreck; and trips to the pristine reefs of Conception Island. Long Island is perhaps most famous for Dean's Blue Hole, the second deepest saltwater blue hole in the world. Plunging to depths of 202 meters/ 663 feet, it's a key destination for freedivers and tec divers in training as well as home to the annual Vertical Blue Freediving Competition.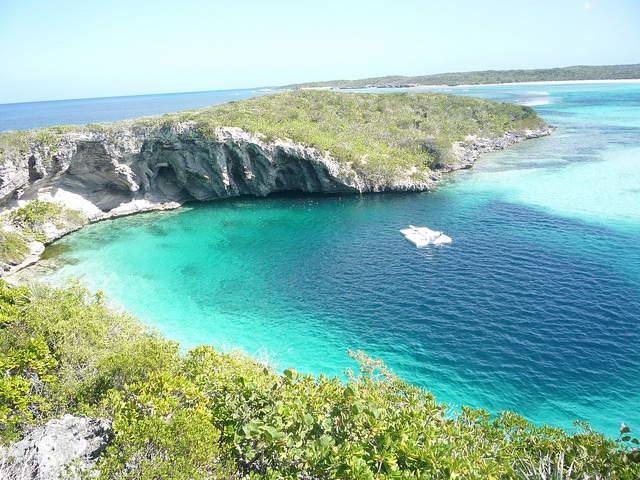 Bimini
Bimini's location 50 miles/ 80 kilometers due east of Miami made it a popular port for rumrunners during the Prohibition era, but today it's better known for its underwater treasures. The islands are perched on the edge of a sheer underwater cliff and washed by the nutrient-rich waters of the Gulf Stream, making this the ultimate destination for pelagics. Baited shark dives are a highlight here, with Bimini Scuba Center even offering encounters with great hammerheads between December and April. It is also possible to swim with wild Atlantic spotted dolphins on the edge of the Great Bahama Bank. Those with an interest in history should also dive the Bimini Road, an unexplained highway of submerged blocks believed by some to be part of the lost city of Atlantis.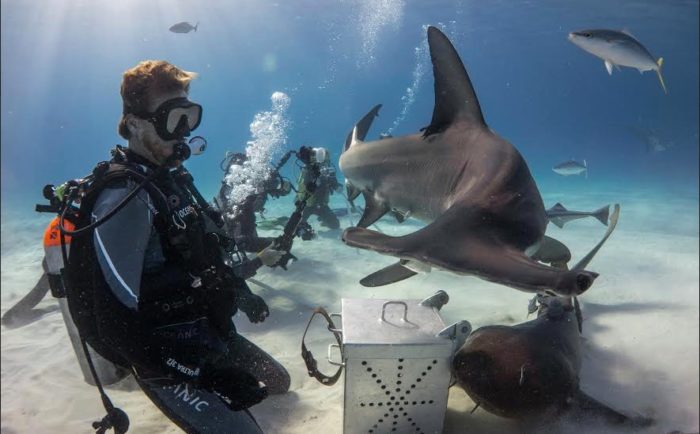 Eleuthera
Sandwiched between The Abacos and Cat Island on The Bahamas' eastern edge, Eleuthera is just two miles wide. Its name means 'Freedom' in Greek, and for divers, that translates as the freedom to explore a wealth of eclectic dive sites ranging from shallow coral gardens to plunging walls and pinnacles. Eleuthera has more natural wrecks than any other island in The Bahamas, thanks in large part to the Devil's Backbone, a shallow reef to the north of the island. Some of the vessels wrecked on this treacherous shoal include the William, sailed by 17th-century settlers; the USS Boston, an American gun sloop sunk in 1846; and The Carnarvon, a Welsh freighter. All of the wrecks lie in shallow, crystal clear water, making this an underwater photographer's dream.
The Exumas
The Exumas is a chain of more than 350 islands, strung like jewels along a 120 mile stretch of The Bahamas' inner edge. With so many dive sites to explore, this is the favored territory of liveaboard charters, although land-based diving is also possible. Film aficionados should pay a visit to Thunderball Grotto, a cavern system filled with filtered sunlight and tropical fish. It featured in the James Bond movies Thunderball and Never Say Never Again, as well as Splash and Into the Blue. The chain has two notable blue holes (Mystery Cave and Angelfish Blue Hole), while the Exuma Cays Land and Sea Park is famous for its untouched corals. The best wreck is probably the Austin Smith, a Bahamian Defense Force cutter that sank while being towed to San Salvador in 1995.
Get More Articles Like This!
Subscribe to our weekly newsletter and get more interesting stuff like this direct to your email inbox every Friday.