On June 7th, while training in freediving summer camp in Santorini (Greece), Adel Abu Haliqa never surfaced from a No-Limits training dive His body has not yet been found and he is feared dead. Who is this man whose loss has devastated a global freediving community?
In May 2006, I put out some feelers in the diving community about practising static and dynamic apnea and received an email from a gentleman called Adel. It was just before the summer and I was travelling quite a bit. Later that year, in August, I got a polite reminder from him about my original offer and we arranged a pool session. I had done my two star course earlier that year and some previous freediving, and Adel had also done some dabbling in freediving and we were keen to keep on training.
We arranged a meeting, and the first time I met him he was sitting in his car at the Jumeirah Beach Hotel car park. There is always that awkward moment when you meet someone for the first time. Shy smiles and hellos were exchanged, and then I, being a typically culturally unaware European, I outstretched my hand in a British business-like manner to greet him. As he put his hand to his chest and said "I cannot touch you with my hand, but greet you with my heart", I think I must have blushed a deep red.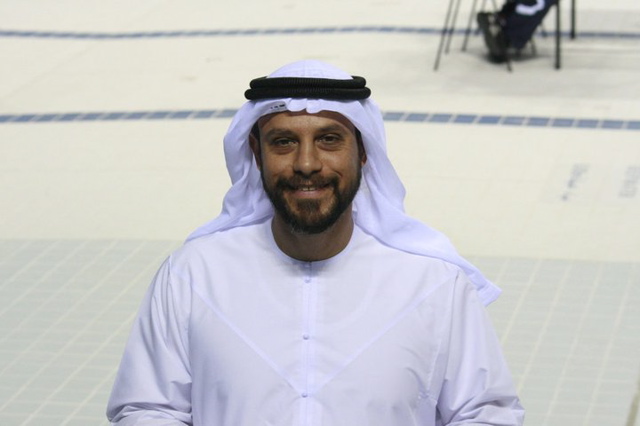 And so was Adel when I first met him. A father, a devoted husband and respected freediving colleague and in a short while, a good friend. We trained together frequently and then decided it was time to bring over a professional trainer to the UAE so that we could improve our skills. I wanted to be an instructor, and Adel wanted to train up to four star level. And so it began. I sent him an email in the following January, so excitedly it was six jumbled lines and then Emma Farrell arrived in the UAE. We spent six weeks studying and training with her and a group of spearfishermen from Dubai, Abu Dhabi and Sharjah.
For Emma and I, this was a cultural revelation. I had never spent quite so much time in the company of local men and Emma even less. It was her first visit to the UAE and we set up a classroom in the dining room of my apartment and she taught us all in the unheated pool downstairs. Adel giggled one day as he turned up from the men's changing rooms in complete full wetsuit, hood and gloves. Separation from women was important to him and his beliefs, yet he was always able to bring out a funny side of something that was quite serious.
"I know you all think I look like a seal", he said, and jumped in the water. And so the ice was broken. We went on endless trips to Fujairah to go diving and as time went on it became more relaxed. Adel's family joined us from time to time on the beach and our community grew. And so did Adel. He published his freediving adventures on diving forums and grew as a freediver with a positive participation in the freediving community. He used to say funny things like "the Dubai sea bottoms won't be noisy" (due to freedivers) and also when he had his first "samba" he expressed his experience on the DeeperBlue.com forums. He was such a positive chap who would see something good in any experience, even though that experience may have had a negative outcome. I read back on our many interactions and feel like I still have yet so much to learn about life's lessons when I see how Adel's philosophy made so much sense.
In 2008, I moved to Abu Dhabi with my job and started training with Adel at the Armed Forces Officers Club twice a week. We seemed to always be unlucky with pool temperatures and survived a bitterly air conditioned indoor pool yet met up twice a week, along with Adel's now business partner, Alex Boulting and other freediving enthusiasts. I was watching some pool freediving competition results on the AIDA website and said to Adel one day "you know, you should go for it, really. After all, you are the only UAE competitor!"
I introduced Adel to a journalist at the National newspaper and the local community took a huge interest in him. I mean, who would not? Adel was a successful and well connected local businessman, with a chain of traditional clothing shops. Not only that, his company was a major sponsor in local Ju-jitsu competitions and Adel was also often a private sponsor of these events. And now on the front page of the National newspaper, with his photograph displaying him swanning across the Officers Club swimming pool wearing a monofin, he was a local hero, and a very cool one at that. He was actively promoting his country's tradition of pearl diving through the sport of freediving and he said once that "freediving is an act of will power and endurance. It is a sport that allows me to be one with the underwater world and myself. I intend to raise its profile in the region because it has a deep connection with our heritage of pearl diving. It is in our blood to be with the sea and beyond."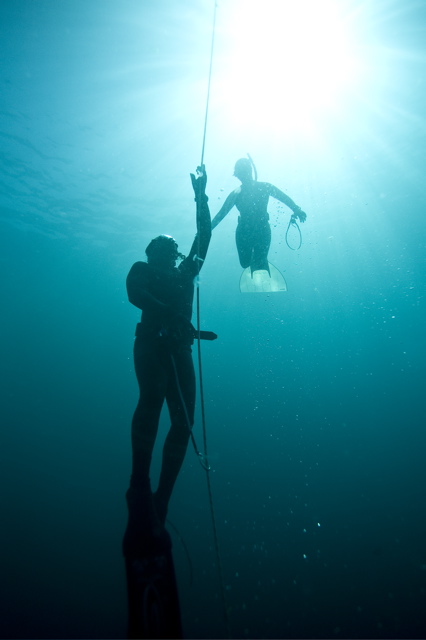 As Adel trained for his first competition in Eindhoven, he says was not so much about breaking a record, but setting one. He said that it would look very bad if he could only dive one metre, but whatever he dived would be recorded, as long as he didn't make any mistakes. This was his historical statement, as he was going in the name of the UAE and would make history.
Adel was very proud of what he was doing, and a month later he landed in Eindhoven and earned the first national records in freediving ever, for the United Arab Emirates. He successfully won three pool freediving records, and it was a very emotional moment for us. He trained very hard for his records and battled his way in the ocean at first with a few equalisation problems and it was amazing to watch his perseverance. After just a few months he returned from a trip to Malta with a 40 metre freedive in his logbook. He was a very happy man. A few months later his achievements were published. He had participated in the 2nd Mediterranean Freediving Cup and came back with 3 national records in the constant weight and free immersion categories.
Adel was indeed relentless and keen to improve and learn more about competitive freediving. In 2009 he went to the Bahamas and entered the Vertical Blue contest competing along with the world's top freedivers, and then broke his own records in 2010 at the 3rd Mediterranean Freediving meeting and added two more records in the Variable weight and No-Limits category.
However Adel was not only about freediving. He loved the underwater environment and was very active with the Emirates Diving Association. He completed a Reef Check course and said that it made him look at things differently under water, and it made him aware of the lack of local awareness on environmental issues. He was also involved in the production a film with his freediving coach, Patrick Musimu and film director/producer Peter de Mulder, called "Waving at my Ancestors"; and was in discussions with natural history and underwater film TV production specialist Jonathan Ali Khan, for a film on freediving in the UAE, just three weeks before his untimely disappearance. Adel also loved yoga and also changed his whole diet to purify his body and improve his health, and he invested enormous amounts of time on specialist instructors and trainers in order to improve his freediving skills. He also featured in a mini-clip on freediving in the UAE for Baynounah TV.
Adel's friends describe him as "a big loss, as he was a decent person who respected his word and gave all of his time to freediving." Others have said "Adel is a great guy.. It's a greater loss to not have him around."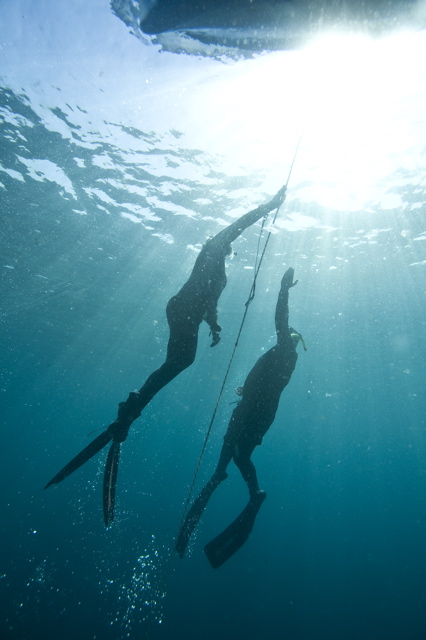 As time passes, in fact two weeks since his disappearance, the freediving community in the UAE has begun to assimilate his loss and accept that he is no longer going to share our waters with us. One of the local spearfishermen said that "the day of the accident, I had drawn up many possible scenarios of what went wrong but with twice as many optimistic scenarios. With every passing day, I came closer to realising a truth I never wished to consider, which is that I might never crack another joke with Adel to see that cute childish smile of his."
Another said "Adel was not a reckless person. He epitomized safety and restraint. So it is not satisfying to hear that the reason he is lost is because he was careless or foolhardy. A better explanation is needed."
His family are not giving up hope. His sister and nieces met with me recently, and explained that Adel's brother Hussein is searching land and sea to find his brother. They said that they will never give up hope and are not going to rest until they find some kind of closure. They are being patient and holding onto their very deep faith.
Adel's freediving coach and close friend, Patrick Musimu, took time to visit Santorini and stand by Adel's family with the hope of providing some answers to the series of incidents that surround his disappearance. He produced a comprehensive report on his findings, and in a side comment so aptly said "may his family forgive us the passion we share for the Blue and for the blindness and ego, which too often conduct our thoughts and deeds".
Such is the love felt for the gentleman of our Arabian seas. Adel was a peacemaker, a politician, a friend, and a businessman, a "brilliant soul". He was professional and hard-working, and many of us have felt a certain amount of responsibility for his loss. Should we have forewarned him before making such an attempt? Should we have asked him if he felt ready for his dives? Or should we have continued the encouragement and cheer that we were giving him from the sidelines? We will never know. It was once said that "hindsight provides new eyes", yet while we will search for the facts behind Adel's accident, one thing is certain. It will not change the event, it will not return our loss, and it will not relieve the sadness that is felt at the loss of our friend.
But we do know one thing for sure. Adel would want a continuation with the work he so loved in this community, which was the promotion of freediving and its inherent link to the traditions of his beloved country, the United Arab Emirates.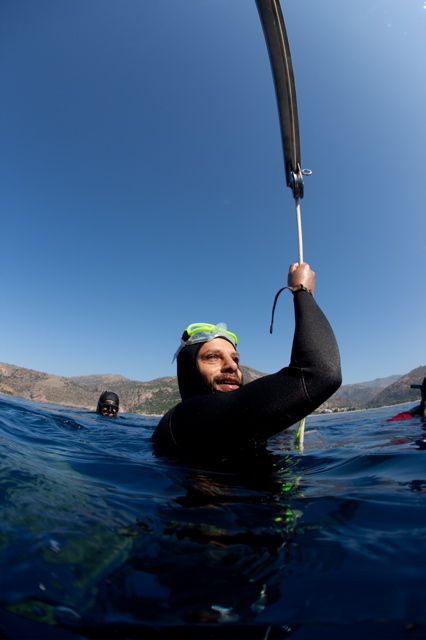 Underwater photos courtesy of Christa Waller. Portrait of Adel courtesy of Sara-Lise Haith.
---