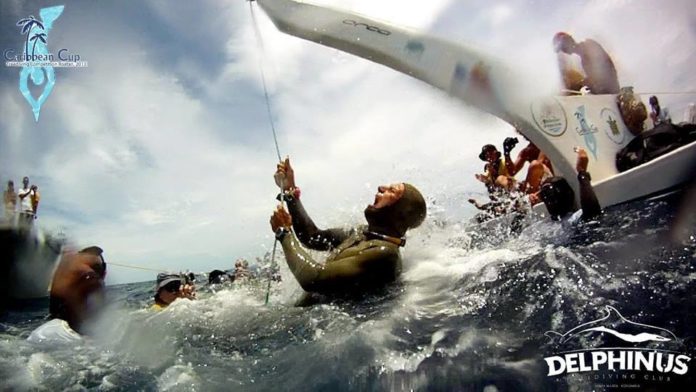 The 2015 Caribbean Freediving Cup will be returning to the Honduran island of Roatan and will take place on May 24-31, 2015.  As in previous years World Class athletes such as William Trubridge and Carlos Coste will be competing in what has become a staple on the international Freediving competitive calendar where athletes compete in Free Immersion (FIM), Constant Weight with Fins (CWT), and Constant Weight Without Fins (CNF).
Since its inception in 2013, the Caribbean Cup has become one of the most important freediving competitions in the world. World- and National Champions from countries in the 5 continents, high-level safety teams and distinguished international judges participate in this exciting competition, held at one of the most appropriate venues on the planet. Free Immersion (FIM), Constant Weight with Fins (CWT), and Constant Weight Without Fins (CNF) are the three disciplines in which athletes try to reach greater depths while holding their breath.
Entry to the competition is $1,000 USD for the first 20 competitors (of which there were 7 spaces left as of 15th January).  After that the fee rises to $1,200 USD.  Athletes also have the option to put a 50% deposit down before April 1st and pay the balance at the time of the official registration on 24th May.
The registration fee includes:
Hosting at Mayan Princess Resort during the event
Participation in the 3 disciplines of the competition (CWT; CNF; FIM)
Free access to the training lines in the weeks prior to the competition
Entrance to the closing ceremony party
For more information, check out the competition's Facebook page.  You can also watch the official 2014 Competition Video below:
Get More Articles Like This!
Subscribe to our weekly newsletter and get more interesting stuff like this direct to your email inbox every Friday.