The Divers Alert Network hosted its firsttechnical diving conference on January 18 and 19, 2008. This is the first time a technical divingconference has occurred in the United States since 2003. It is also the first time since the 90s thata neutral party has hosted it. DAN beinga safety and science based organization provided for a research rich focus tothis conference with a mix of field and expedition reports thrown in.
The conference was limited to 150 peopleand sold out well before the event. Theevent brought together some of the giants of the field. This is the first time in over a decade wherea sizable portion of the technical community was in the same place at the sametime. A very good development.
The two-day program was divided into foursections. The first session wasdedicated to physiology. This sessionhad a science focus with presentations on respiration, oxygen toxicity,narcosis and high pressure nervous syndrome, and thermal considerations. General overviews and specific researchfinding built on the expanding base of knowledge that military, commercial andtechnical diving has contributed to the understanding of extreme exposure diving. While nothing jumped out as surprisingly new,it is clear that technical diving is becoming an accepted activity within thescientific community and a valued source of data for expanding theunderstanding of diving.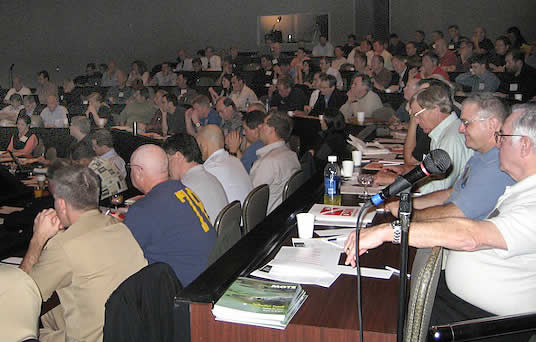 During Dr. Mitchell's respirationpresentation difficulties with extremely deep diving were presented. Effort independent ventilation seems to bethe issue. This is a condition due togas density and work of breathing where respiration effort will not help movegas in and out of the lungs. Simply, theharder you try to breathe the worse the respirations become. It is a physics issue. The pressure in the chest developed throughincreased breathing effort can cause gas not to be able to leave the lungs. Evidence of this was presented from aprevious fatality. Shows the importanceof good breathing training.
Dr. Nuckols' thermal presentationintroduced a new material for insulation that looks very promising. Aerogel is a remarkable material that isadded to fabric that is three to four times more insulating than Thinsolate andactually increases its insulation when compressed. This material will be available to the marketthrough Diving Unlimited Internal very soon. It will allow for thinner garments to be worn or better insulation invery cold or long diving applications. The cost will run considerably more than standard garments, but seem tobe more than worth the added expense.
The second session was dedicated todecompression. The topics covered wereDCS pathophysiology, DCS risk factors, deep stops, DCS therapy, and DCS riskassessment. Again, the focus was heavilyscience based. Dr. Richard Pylepresented on his use of in water recompression when faced with an injured diverin remote locations. Dr. Pyle wascareful to point out the many complicating factors involved in making thedecision to consider this therapy.
Deep stops were discussed and what mightsurprise many is there appears to be evidence that bubble model deep stopprofiles may not be better at reducing the risk of incidence of DCS. Although very preliminary, it appears thatreduction of decompression time because deep stops are done, may actually makedecompression more risky when examined probabilistically. There is not enough evidence to say bubble modelingis unsafe or a bad decompression strategy, but should give some pause to thosewho use it. Further investigation and anopen mind are called for.
The evening included dinner and twopresentations. The first was a publicsafety announcement developed by the HSA from the UK speaking to the risk ofcarbon dioxide problems while rebreather diving. Based on a real world incident, the piecespeaks to proper planning and safety issues related to not planning properlyfor rebreather diving.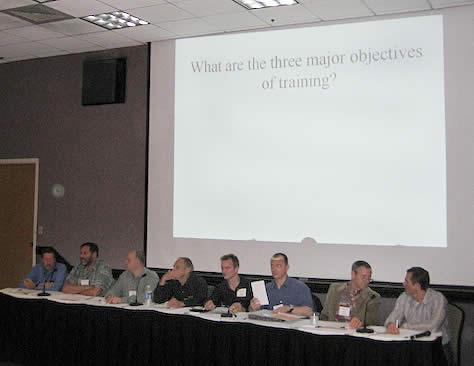 The second presentation was by JohnChatterton and Richie Kohler. Nevershort on sense of humor they began their talk with a spoof called, BrokebackDivers. The title pretty much gives theidea. Following their introduction totoo much time in a sub together, they presented dramatic footage of their expeditionto the RMS Titanic. Exciting stuff andwell worth the wait.
Day two was geared more toward thepractical. The morning session coveredrebreathers. The presentations coveredUSN testing perspectives, UK testing perspectives, investigation of rebreatherincidents, and then progressed into a manufacturers panel. Devoid of any insights into applications ofrebreathers in technical diving, the morning was very heavy into testing ofrebreathers and what is important in that effort. The presentations were very interestingdealing with what might be considered important for purchasing a rebreather,but not much was clearly pointed out as to what was more important for divingthem.
During the panel discussion most wereavoiding controversy and playing nice with each other. What did become clear is that rebreathers arerecognized as a growing segment of the technical diving community and clearlyseen as something not just for technical divers. From a diving perspective, the rebreathercomponent did not provide much insight into the application of rebreathers intechnical diving. It was great for abetter understanding of the technical aspects of rebreathers as a piece of lifesupport equipment, however.
The afternoon session was focused on training. The topics included, risk management, riskfactors, and concluded with a training panel. John Chatterton and Richie Kohler presented that risk managementstrategy they employed on their expedition to the HMHS Britannic. Thirteen aspects of their planning wereillustrated. They spoke on how theymitigated different divers using different rebreathers and decompressionstrategies. This was handled by teamselection. Divers with the same unitsand strategy dived together and functioned as a team.
The panel discussion focused more on whatdelineates technical training versus recreational training as related torebreathers and open circuit. The panelseemed to become hung up on some of these delineations rather than what iscritical to have within a training program or progression. The panel did agree that whether the trainingis for open circuit or closed circuit it should require a high level ofcompetency and provide for mission orientation. The discussion degenerated into a debate on recreational certificationrenewal and the state of recreational training. Everyone played nice and a good bit of humor was used to keep itpolite.
The evening dinner session concluded theevents of the conference. There was apresentation by Kathy Weidig on an oxygen toxicity incident that occurred onthe 2004 Silverstein / Weidig USS Monitor Expedition that happened to be caughton video. Following Kathy, JarrodJablonski covered the work the WKPP has done that allowed for the traverse fromWakulla to connect with the other cave systems of the area. The longest traverse ever conducted in a cavesystem with most of the dive happening below 250 feet / 76 meters. The work that has been done is impressive anddaunting. The longest dive to date wasconducted for twenty-six hours of total run time.
Overall, the conference was a well-attendedand run event. Having a place to bringtogether the technical diving community under one roof has been missing forsome time in the US. At least everyoneis talking again. Unfortunately, thevast majority of the participants were the same faces that were present at theshows in the mid nineties. Hopefully,future events will provide room for a larger and more diversified audience toattend. Let's hope that future eventswill continue. This one was a greatstart to a new beginning of community building for technical diving.