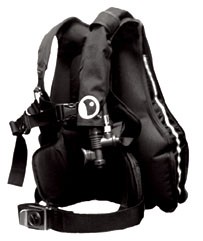 Deepoutdoors® has redesigned its Unity® B.C.D.–now the Unity II® – which has been made more streamlined and with less "stuff" than its predecessor.
"We are finding that a lot of divers prefer to dive with a minimalist B.C.D.," says Robin Jacoway, President of Deepoutdoors. "Our Neutrino B.C. has become very popular because of its 'everything you need but nothing extra' approach. So we have redesigned one of our Harmony Series B.C.Ds-the Unity II-to more closely resemble the Neutrino, but at a lower cost."
The Unity® II, which carries an MSRP of only $400 (compared to $575 for the Neutrino), is the perfect B.C for the sport diver who likes to glide through the water without a bulky B.C. Non-weight integration keeps the bulkiness of the Unity® II down as does a more streamlined bladder. Plus, the Unity® II comes in two sizes: small and large.
The Deepoutdoors Unity II:
Offers unencumbered freedom of movement, styled after Deepoutdoors highly popular Neutrino B.C.D.
35 pounds of lift via Deepoutdoors Air-Arch Bladder that is extremely hydrodynamic and comfortable.
Non-weight integrated.
Available in two sizes: small and large.
MSRP $400 USD
DeepOutdoors is dedicated to designing product for exploration and to inspire adventure. For more information contact DeepOutdoors at (858) 513-1064, or log onto the internet at www.deepoutdoors.com
Get More Articles Like This!
Subscribe to our weekly newsletter and get more interesting stuff like this direct to your email inbox every Friday.