Keep your eyes peeled to our DEMA Show Coverage section at https://www.deeperblue.com/dema-show/, via twitter on @deeperblue, or join us on our YouTube video channel.
To link to the coverage, please use the following URL: https://www.deeperblue.com/dema-show/
The Freediving Side of DEMA
I have watched closely the growth of the Freediving training programs since my first DEMA show in Miami beach back in 2003. The good ol' days with Tanya Streeter signing autographs right and left, Performance Freediving acting as the new kids on the block with a rather unknown talent on their team, Martin Stepanek. Back then Kirk Krack, Mandy-Rae Cruickshank, Brett Lemaster and Martin were all the musketeers of freediving at the Cayman islands. Deborah Andollo also showed up — launching a new freediving school in Cuba at the time. (please refer to Deborah Andollo:The Godmother of freediving). Everyone was still talking about Bob Talbot Oceanmen as the motion picture reference for the small, but growing freediving tribe.
Fast forward 6 years later, Martin and Kirk broke up, giving birth to two blossoming and fast growing freedive training agencies: Performance Freediving International and Freediving Instructors International. So what do they each have in store for the next year? Up and coming 2010 plans? I was on a mission to find out.
"Timing is everything" I thought to myself when I received an email from Guillaume Néry multiple world record holder freediver and French compatriot saying " I am in Orlando for the Nogi Award Ceremony then off to the Bahamas to train, let's hang out!".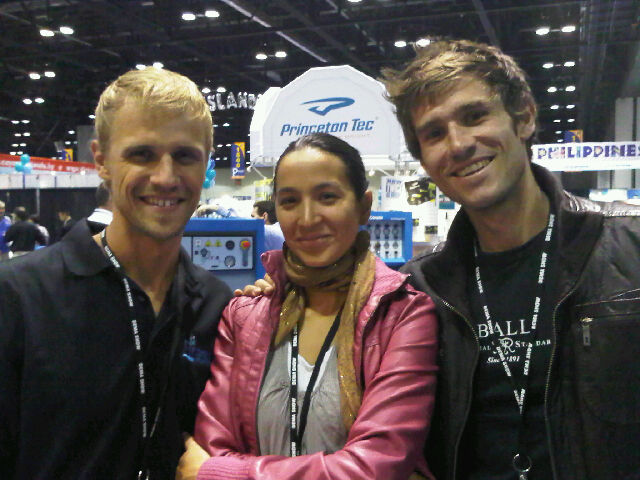 From right to left:Guillaume Néry,Julie Gautier,Martin Stepanek
A few minutes later Guillaume and his other half, French top freediver Julie Gautier showed up and we strolled toward Martin's F.I.I. booth. Martin and Guillaume were happy to see each other, Guillaume first asked why Martin did not compete at this year's worlds. Martin answered that part of the reason was that, since his last record in Egypt he had not found the time to train much: "Business has been really good lately, lots of traveling and teaching and expanding– F.I.I. is doing great!" Guillaume was quite curious about the seminars that Martin was giving at DEMA this year on "The business of freediving". Martin explained that due to hard economic times, the diving industry was trying to find new ways to improve business and that freediving was one of them. Martin was invited by DEMA, (you heard it right) to put together seminars for dive shop owners and industry leaders to better understand and finally cater to our beloved discipline. One thing he said during the seminar, that the Deeper Blue team attended, was directed to boat operators "First-off you want to have the freedivers get in the water FIRST as they certainly do not want to wait half an hour for scuba divers to be ready, and then make sure you have a line a buoy and a safety system that makes the freediver experience a good one!". Of course for all of us "one breath" beings it makes sense, but for the dive industry we still represent the Terra Incognita.
The F.I.I. agency is doing well, with more classes, completely booked travels to Hawaii and the Red Sea this year and a successful freediving program at Barry University in Miami. Also of note, the genesis of the F.I.I. affiliated network, a structure meant to help scuba centers to develop their own freediving program with instructors and all the necessary academics and training provided by Freediving Instructors International.
After a long and rather passionate conversation Julie, Guillaume and I gave our farewell to Martin and walked for what felt an eternity (as I got them lost for a while) to the booth of Performance Freediving International. I was really excited to meet with Kirk Krack as we had chatted the night before about his new baby (other than the one growing in Mandy-Rae's belly, Congrats Mandy and Kirk!) : the underwater scooter race or formula three freediving as he calls it. Three similar repetitive words came to mind when he mentioned this: FUN, FUN and FUN! We were rapt listening to Kirk's explanations, "You have team of three freedivers using the scooter, all the scooters have the same power output, they go on an underwater race course at about 50 feet, defined by gates, (made of PVC pipes), they need to go through each one of them and use relay race tactics to win!" As we then watched a formula three video put together by freediving film-maker extraordinaire Goh Iromoto, we knew we were hooked.
The first official race will happen next year after their yearly "Breathless" competition, at P.F.I.'s official competition headquarters: the crystal blue waters of the Cayman islands. With all of the exciting conversation keeping a constant smile on the faces of Kirk, Guillaume and myself–undoubtedly showing the childish side of our young souls– we transitioned the dialogue to more serious business. Kirk and Mandy openly invited Guillaume to next year's Cayman competition. Guillaume said that he was very interested and that he found the underwater photographs from last year event on P.F.I. booth compelling: "The water is definitely amazing there so it looks…"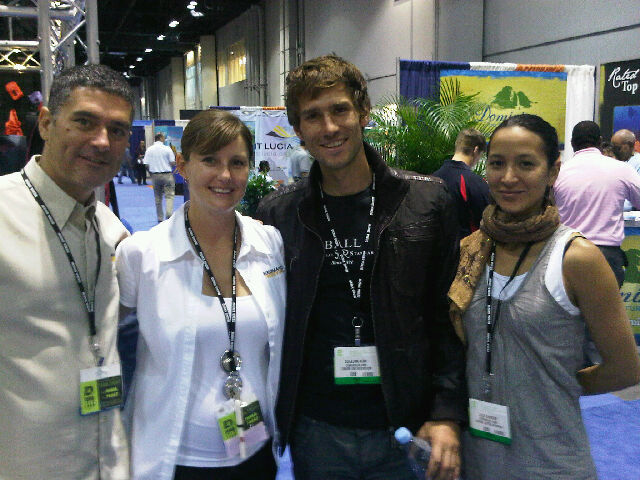 From right to left:Julie Gautier, Guillaume Néry,Mandy Rae Cruickshank-Krack,Kirk Krack
As Kirk, Mandy, Julie and Guillaume were chatting about Cayman I walked over to Erin Magee and Ted Harty, the newest full-time P.F.I. instructors, representing the Fort Lauderdale office. "Business is good and growing steady" said Ted, "we have a good location at ProDive in the heart of the Floridian diving world", "We also travel all over the place to teach!" said Erin. And they were extremely busy at their booth, which was located right next to the U.SA.A. booth. We all then said goodbye to the P.F.I. crew and walked toward the Neptunic booth to say hello to DeeperBlue's favorite mermaid Linden Wolbert. Our discussion about the good health of the US freediving market continued — we all noted that despite not having any mainstream media coverage in the US, affinity for the sport was growing — perhaps not equal to the popularity enjoyed in France, but at least moving in the right direction. After a quick hello with the mermaid, we parted ways as Guillaume was to rent and put on his first tuxedo ever and Julie was looking for a purple dress.
As I walked back out of the show toward the pressroom, I was in a state of bliss. All the peeps from the freediving world might have different opinions (hence two different agencies) on certain matters but at the end of the day, we are only one tribe, we are all passionate for our discipline and the world's oceans. I liked the fact that two agencies are there for North America, it makes for more choice and offer different prospectives on training for potential students. The good news to be drawn from DEMA this year is that freediving is in great health. Confirmed by the the impressive staff from the F.I.I. team covering everything from breath-hold presentations at the DEMA pool, (introduced by US freediving legend Bob Croft), to their brand extension at the Aeris booth (for the new F-10 computer designed by Martin), over to the success of P.F.I. with their myriad training programs throughout the US and Canada; Mandy & Kirk's amazing and courageous participation in the critically acclaimed movie "The Cove", and of course P.F.I.'s latest innovation in the freediving industry: their dynamic formula three freediving race, debuting at Cayman next year.
All is good in the best of the underwater world.
For more info on US freediving go to:
United States Apnea Association,Freediving Instructiors International,Performance Freediving International