Today at Deans Blue Hole, on the last day of William Trubridge's Vertical Blue 2010 invitational, Eric Fattah entered an elite league of freedivers who have successfully reached 100 meters in competition. Fattah's roundtrip dive to 100m CWT took three minutes and 21 seconds. On the DeeperBlue forums Eric shared his thoughts about the dive:
"Ironically, the 100m was a horribly executed dive compared to the 90m a few days earlier. I was barely able to pack at all (!!) due to low blood pressure (started with probably 2L less than full), didn't streamline properly during the sink phase, wasted 5-6 seconds trying to find the tag in the blackness, and my legs have fallen out of shape after a month in the bahamas with no strength training — legs failed 4-5 times on the way up. The dive was 3'21", way over the estimated 3'10", although I didn't feel close to a samba at all. Interestingly, the 72.1m FRC dive I did last year at VB 2009 was IMMENSELY more difficult. In fact when comparing a 100m dive on an inhale, it feels like a 56m FRC dive with way more narcosis...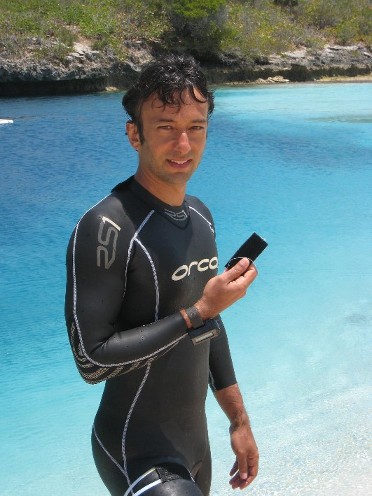 I set myself a goal of doing 100m in constant weight in September 2000, when the record was still 81m, and 100m was considered impossible. Finally 10 years later I did it, so that was pretty awesome."
This successful dive puts Fattah in 10th place for the deepest CWT freediver, alongside the likes of his aquatic compatriots such as Walter Steyn. Fattah is well-known around the world for his experimentation with FRC dives; he also serves as the Chief Technology Officer at Liquivision.
Photo Courtsey of Liquivision

.