Lindos, Rhodes — An ancient stone diving technique, used by sponge divers in the Mediterranean for thousands of years and known by the Greeks as "Skandalopetra" has sparked new interest by freediving athletes. To most, the Greek Isles are reminiscent of beautiful beaches and late-night partying, but Greece is also home to one of the oldest freediving traditions in the world.
For thousands of years, Greek divers sailed the Mediterranean and out to the Atlantic coast of Africa in search of sponges. Skandalopetra divers of old wore nothing, neither gear nor clothing, as they plunged to incredible depths riding disk-shaped stones. A cable or a rope attached to these disk-shaped stones allowed people on the surface to then pull the intrepid divers back up to safety. In the 20th century, stone diving rapidly declined due to the advent of SCUBA and the invention of synthetic sponges. On the Greek Isles, a group of traditionalists has kept the tradition of "Stone Diving" alive and well, focusing on safety and fun (rather than sponges.)
Competitive freedivers from around the world have taken notice of this time-honored tradition and traveled from afar to participate in "Open Games Skandalopetra 2010" on the Island of Rhodes. Brazilian freediving champion Karol Meyer decisively took her seventh world record in the famous bay of "St. Paul" at the town of Lindos.
Holding a stone of 12 pounds, Karol slid down in the waters off Lindos to achieve her current female World Record in Skandalopetra with a mark of 61.5 meters and a dive time of one minute and: 48 seconds. Karol's new Skandalopetra record improves upon the previous 54m dive from Paola Tagliabue of Italy, in both depth and total time to complete.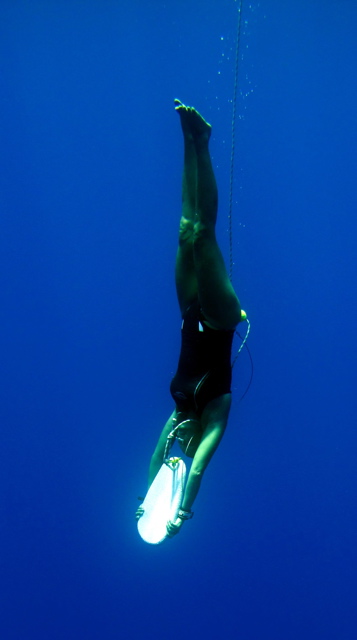 Freedivers who practice the Skandalopetra tradition today only wear nose-clips (for equalizing ears) and their swimsuits, but no other equipment is allowed. For Karol's record attempt the special participation of the Greek physician Dr. Nikolas Trikilis (considered the father of Skandalopetra internationally and most dedicated person in this type of diving and the maintenance of the Greek tradition) and her husband Gilberto Neto Gabardo (in the lead role of coordinating safety and responsible for bringing Karol to the surface by pulling the cable up on the boat) were critical to her success.
According to Karol Meyer, "The record was also a great adventure, a plunge into sports history and our ancestors who dived with one stone, apnea, in search of food and riches of the seabed. Freeving in Skandalopetra is so old, survived through times and remains the same as at the time of Alexander the Great. It was in Greece that have registered the first world record in freediving, and exactly in this discipline, Skandalopetra, when the Greek sponge fisherman Haggi Stattis, on July 14, 1913 was enabled to recover a lost anchor on the seabed by an Italian navy ship called "Regina Margherita". Haggi Stattis came down with a rock to a depth of 83 m, which is considered the first record (record) diving in apnea in male category."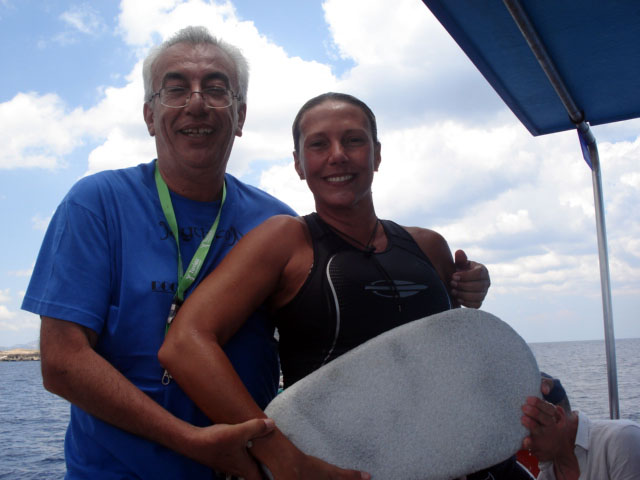 Two US freedivers, Robert King and Matt Souza, have also recently encountered the challenges of stone diving in a traditional Greek diving exhibition on the island of Rhodes, Greece.
Men's US Record holder Rob King fell short of his own personal best dive to 90 meters, with an inaugural attempt at Skandalopetra that resulted in a 40-meter dive. However, King remains satisfied with his first attempt at stone diving. "It's a pure form of diving," explained Rob, "and you feel exposed without the wetsuit. When you're hitting progressively colder layers of water (from a comfortable 80 degrees at the surface, to the low 60s at depth) all your good intentions about relaxing and equalizing pretty much go out the window—rather like being hit with buckets of cold water in the shower."
Barring the thermo cline challenges, Skandalopetra (diving only with a stone attached to a cable without wetsuit or mask or fins, in the same style of ancient sponge divers of Greece) offers yet another discipline for today's avid freedivers to explore.
Check out more photos of Karol's record attempt here on the Skandalopetra forums. Special thanks to: Mormaii, Racer Academy Yogashala, Gilberto Gabardo Neto, Dr. Nikolas Trikilis, Major of Lindos, Aquagrand Resort, Thessalonic Freediving Association, Mythicon; Grant Graves.
Photos courtesy of Karol Meyer and Dr. Nikolas Trikilis.