Journeying beneath the ocean in scuba gear gives humans the opportunity to take in sights that they'd never otherwise have the privilege of seeing, helping scuba diving to become a favorite pastime of many undersea enthusiasts.
While oceans cover the majority of the Earth's surface, there are a handful of spots around the world that serve up more stunning underwater scenery than any others; here is a look at five incredibly beautiful scuba diving locations:
1. Bermuda
Famed for its natural undersea landscape of exotic fish and seemingly unending coral, the waters off of the coast of Bermuda also play host to a number of shipwrecks, all due to the fact that the island has played such an active role during several international conflicts and exploration expeditions since its founding in 1609.
As tourist-friendly as a place can be, Bermuda welcomes its visitors with open arms in every way, and its long list of scuba diving teams and events highlight this fact. With reasonable water temperatures year-round and a water clarity that isn't found anywhere else in the Atlantic, Bermuda is more or less a must-visit location when it comes to scuba diving any time of the year.
Travel tip: If you go to Bermuda, use this site to learn more about that destination!
2. Los Angeles
Besides being a hub of just about every type of urban activity imaginable, Los Angeles also provides visitors with fantastic access to some of the most stunning Pacific scuba diving locations in the world, including the famed Catalina Island. With fully certified locations around the city, you'll never have trouble finding a well-qualified instructor to take you out, with access from the city to scuba diving points ranging up and down the Pacific Coast.
Travel tip: If a stop in the City of Angels is on your scuba diving itinerary, there is no shortage of elegant hotels in LA! This blog also provides lots of insight into hidden LA gems.
3. Egypt's Red Sea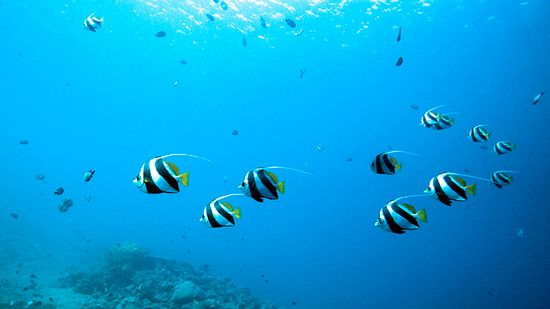 Boasting longer stretches of coral than anywhere else in the world, the crystal clear waters of the Egyptian Red Sea promise to provide unmatchable views of undersea life, with the Sea's warm, clear waters making them a true joy to dive within. Many cities along the coast provide fantastic scuba diving opportunities for locals and tourists alike, with Ras Muhammed National Park, Small Giftun Island, and Blue Hole being among the country's favorites.
With its waters warm year-round, there is no bad time to visit the Red Sea for scuba diving, though many visitors prefer the winter season as air temperatures tend to be much more hospitable.
Travel tip: Make sure to check the safety guide if you decide to go to Egypt.
4. Thailand
Providing access to a number of bodies of water, Thailand is another excellent choice for your next scuba diving adventure because of its famous Mu Koh Similan National Marine Park, a veritable underwater playground. Planning your visit during the spring months will ensure that you miss out on monsoon season, which could threaten to derail your plans during other times of the year.
Travel tip: For Thailand traveling this guide is your best choice!
5. Hawaii
Fish, sharks, coral, and even undersea volcanoes await you in Hawaii, one of the world's favorite destinations for all activities related to the sea, scuba diving included. Explore waters rife with marine species that are found nowhere else in the world, take an evening swim with the Big Island's famous manta rays, explore the coast of the forbidden island of Niihau, and submerge yourself in the dark waters of Lanai's underwater channels and caverns; the possibilities are nearly endless.
While Hawaii's waters are at their warmest, calmest, and most welcoming during the summer months, winter and spring bring humpback whales to the area's coastal waters, making a trip any time of the year well worth any serious scuba diver's time.
Travel tip: Hawaii.com is your best website for travel and accommodation info!
What's your favorite scuba diving destination?