A relative newcomer to the sport of freediving, today Jenna McGrath grabbed her first official title. At the Culver City Plunge Pool in Los Angeles, California McGrath successfully completed a dynamic apnea dive (DYN) of 150 meters in two minutes and :04 seconds, garnering her a national record and quite a triumphant Sunday. An acclaimed screenwriter and former synchronized swimmer, Jenna has spent the better part of the last two years getting acquainted with renowned dive locations such as Deans Blue Hole and Grand Cayman in pursuit of her version of plato's tripartite theory. "Freediving is where you have the body, the mind and the soul" Jenna explains, "for me, my mind is telling my body to overcome its instincts so that I can truly experience my soul."
Judging from McGrath's performances earlier this year at the 2011 AIDA Indoor Freediving Championships in Ligano Italy, as well as her accomplishment today we can be assured to see a lot more soul from this athlete. "Jenna's performance was strong and clean," said AIDA Judge Linden Wolbert, "for a moment I wondered if she was going to turn again at 150!"
DeeperBlue.com congratulates Jenna on her monster swim and looks forward to seeing what more she will do as a competitor at PFI's upcoming Deja Blue III competition in May.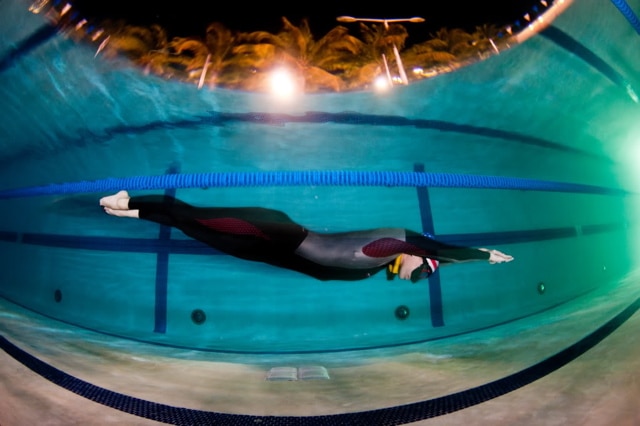 Get More Articles Like This!
Subscribe to our weekly newsletter and get more interesting stuff like this direct to your email inbox every Friday.