Florianopolis Island, Brazil — Karol Meyer has achieved new some new depths. In the Free Imersion discipline, the Brazilian athlete has reached a depth that would be considered the same as a continental record, 74 meters, in 3 minutes 10 seconds.
In constant ballast (CWT) she crossed the 70 meter mark to 71 meters.
These dives occurred several miles out to sea where Karol reports that it is possible find the clearest, blue waters during this time of year. The record was confirmed by Aida judges Heriberto Peres and Luiz D. A. Neto, with local TV coverage.
Karol's main goal this year is improve her ability to go deeper in the "No Limits" category.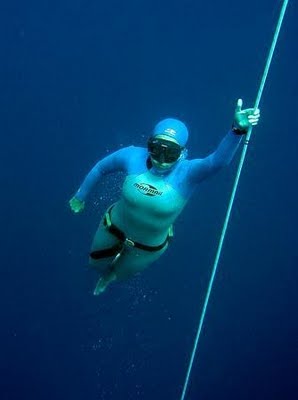 Editors Note:
Karol has announced recently that AIDA have withdrawn this record due to inconclusive video footage. (03/09/2011)