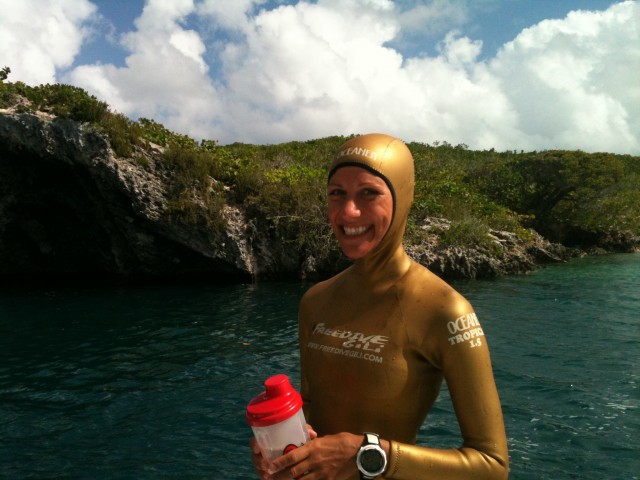 On day two of Suunto Vertical Blue in the Bahamas, Kate Middleton broke her own previous national record for New Zealand by completing a constant weight dive (CWT) to 68 meters with a dive time of 2 minutes and :31 seconds.  The girl with the golden suit had a very good day setting a personal best at Deans Blue Hole despite some rather grey weather and much cooler temperatures. "The water was much colder than yesterday, I found myself shivering all the way down!" exclaimed Kate, but she managed to summon her inner sunshine to reach the ambitious target depth (a daunting -223 feet down in the world's deepest sink hole). Once Kate grabbed a tag from the bottom-plate she knew she was home free. "Swimming back up is my strong suit, I could go on forever," the yoga instructor shared post-dive.  A freediving instructor as well, Kate Middleton runs both a yoga studio and freediving school (with her partner Michael Board) on the island of Gili Trawangan, in between Bali and Lombok, Indonesia.  With five more days in the freediving competition it's very likely we'll be seeing more from Middleton, perhaps extending her own record in free immersion which currently stands at 65 meters.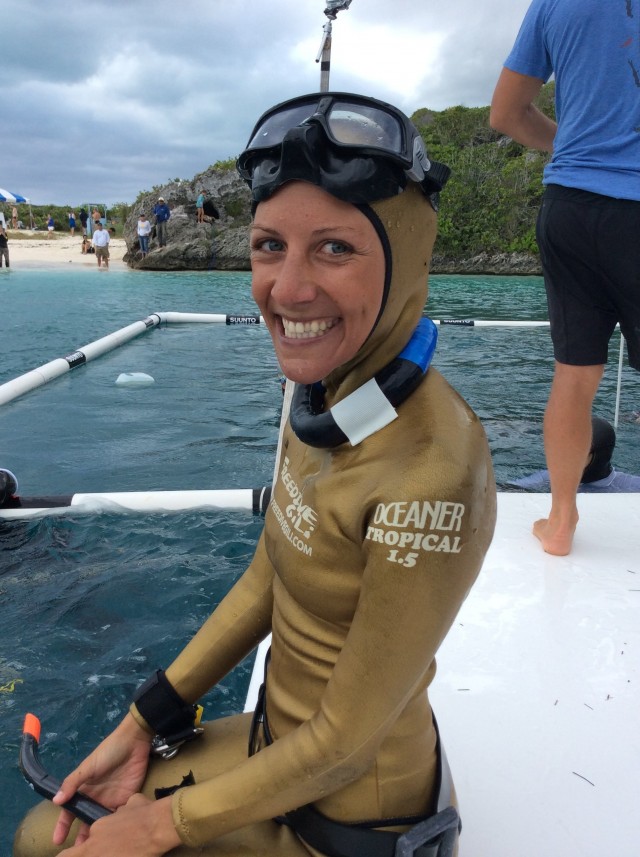 (photo © Francesca Koe)
Get More Articles Like This!
Subscribe to our weekly newsletter and get more interesting stuff like this direct to your email inbox every Friday.