Labelled as Sydney's best dive by many a local, the clue is in the name when it comes to Magic Point
Magic Point is often considered to be Sydney's best dive for good reason. Located less than 10km south of Bondi, Australia's most famous beach, and just 25 minutes from Sydney Harbour by charter boat, Magic Point is home to one of the country's biggest grey nurse shark populations.
Though generally not considered dangerous to divers, grey nurses are nonetheless large sharks – growing up to 2.5m / 8-9ft – which typically congregate in large numbers. For many divers, the chance to freely observe this rare shark is rightfully high on the bucket list and Magic Point is amongst the best places to do so anywhere in the world.
Several advisories and rules add to the experience of diving with the grey nurses, heightening the senses in the process: there is no diving at sunrise or sunset; entrances to the caves should never be blocked when sharks are present; and there is absolutely no feeding, touching or chasing. Need divers forget, these are apex predators with trademark 2inch ragged teeth.
The temperate New South Wales waters – far removed from the stereotype of the Great Barrier Reef's tropical temperatures further north – increase suspense and build the atmosphere: this is no aquarium. The limited visibility, typically less than 10m but often just half that, acts as a further reminder.
A backwards roll or giant leap is followed by a purposefully fast 15m / 50ft negative descent into the blue; the current is less powerful at the flat bottom. The boulders to the right confirm you're in the right place. It is possible to dive deeper, but most of the action occurs at the relatively shallow depths near the caves' opening. Inch forward together with the group or your buddy, mindful that a wall of bubbles may scare off this elusive shark that was the first to be granted a protected status anywhere in the world.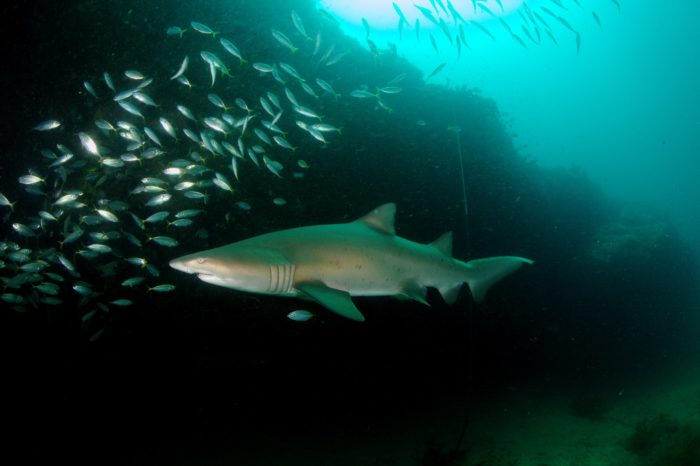 The entrance to the first cave comes into view and moments later a dark silhouette, then another: undoubtedly sharks but bigger than expected. The silhouettes grow larger as the sharks come in for a closer look. And then they're in full view. One shark, two sharks, three sharks, more. You remind yourself of the first rule of diving and remember to breathe. More sharks appear but by now you're settling, content to be in the presence of one of the ocean's apex predators.
Made up of two caves, approximately 30m / 100ft apart, Magic Point currently has between 10 and 20 resident grey nurses. This number varies each year but is steadily increasing since the New South Wales government responded to dwindling population numbers and upgraded the grey nurse's status to endangered fifteen years ago.
Magic Point has been declared as a critical shark habitat area by the government of New South Wales, meaning dive operators are limited to the number of charters they can run to the site. Hopefully, that means that Magic Point will long remain a favorite for Sydney's divers, and for all that want to see this majestic shark species in its natural habitat.
Get More Articles Like This!
Subscribe to our weekly newsletter and get more interesting stuff like this direct to your email inbox every Friday.