The concept:  to organise a training camp where people can train for deep freediving over a period of six weeks.
The primary objective of the camp was tooffer high level freedivers the opportunity to train in depth disciplines inexcellent conditions with the full infrastructure on hand to validate theirperformances.
The second goal was to enable athletes at alower level to mix with the elite athletes to help them progress by giving themaccess to all the new techniques used by the really deep divers.
Technical set up and organisation
We were based at a dive centre, Sea GypsyDivers.  For the open water training, we had a 7.5m RIB set up with training and safety equipment that gave us two warmup lines and one official line.  Tovalidate records and make performances official, we had a deep camera, surfacecamera and two AIDA Level E judges present.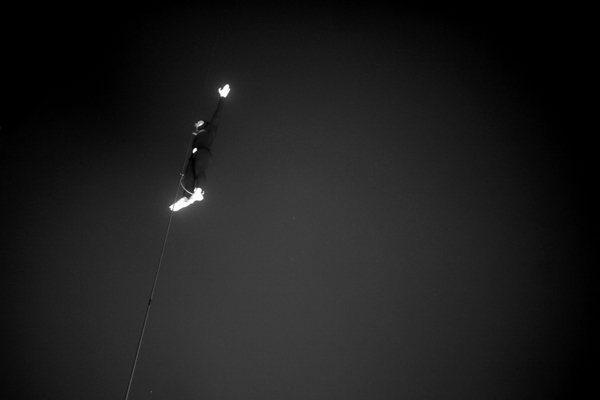 To keep things comfortable, the number ofathletes was limited to a maximum of ten freedivers for each training session, eachsession lasted 2 hours. We left each day at 6.30am and returned at 9.15am.  Each freediver stayed for around 10 days.
Menorca – Calla Galdana 9 July
I arrived in Menorca by ferry.  Three Finns – Eero, Jussi and Jyri hadalready arrived, as had David, an English mate who was waiting for me. They hadeach come to add a few metres to their personal bests and to have a go atbeating their respective national records. The Finns were going to do more than just collect depth records.  They had linked up their attempts with acharitable project that was looking to subsidise medical research intoleukaemia and multiple sclerosis (www.dive4aid.net).
I had only just arrived, I was tired butthe temptation was too great.  Before weeven settled in to our apartment, we decided to take the boat out.  Within ten minutes we were out in the opensea off Calla Gardana to see what it had to offer.  The water was 27 degrees, with 35m viz and ablue that I had rarely seen before.
On the other hand, when it comes to windand current, I was not expecting it to be the same as it is in Nice, in the bayof Villefranche.  Here, 3 miles out inthe wide open sea, to the south of the island, we were diving along a linewhere the bottom lay at 100m. We were exposed, and the wind and current wasgoing to cause us problems.  There was noway we could train anchored in our usual way. With the current running, the lines would soon be pulled out on quite anangle.  On the other hand, to train withoutanchoring, by drifting with the current, was also not going to work because thewind, rarely going in the same direction as the current, would also drag thelines up from the vertical – making deep training quite hazardous.
Nano, a freediver and marine biologist,knew the area where we were going to dive all summer well.  They have collected many specimens there andalso used it as a site for marking sperm whales.  Our site was right at the bottom of thecanyon, with 120m below us.  "We areright out in the open sea, in an area full of fish.  Sometimes fishermen have caught white sharkshere.  But you are most likely to comeacross Mambiolas – a kind of manta ray."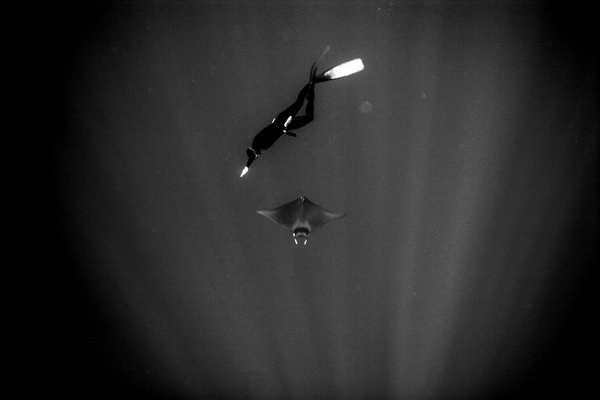 Menorca – Ferreries 13 July
This morning I finally received a parcelsent from the middle of France.  I hadbeen waiting for it for almost a month. Inside the parcel – a refurbished military parachute bought onEbay.   The parachute is hemispherical,and came from the US army, last used in the Second World War – June 1943.  It was enormous! 8m diameter!
The seller had made it clear that Ishouldn't try and jump using it.  Hedidn't hear me laughing.  I didn't dareexplain to him that it was going to be used for freediving.  This parachute was going to work as a seaanchor so we could dive on the drift during the whole camp season.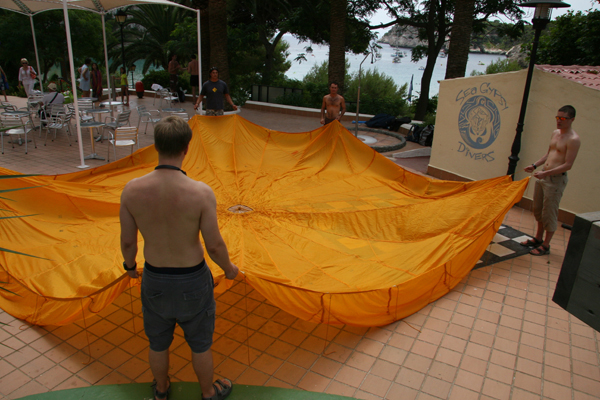 From then on, our lines were alwaysstraight, whatever the strength or direction of the wind and current.  The parachute held us in place, anchored in acolumn of water.  Everything then movedin the same direction and at the same speed – the parachute, the traininglines, the freedivers and the boat.  Thelines were always held vertical.
That winter, in my sketches, I had thoughtthe idea of a 300 litre parachute acting as a sea anchor just a bit toofar-fetched.  It was Yad, a fellowfreediver from Nice who now works as a professional coral fisherman who gave methe plan of using the parachute.  Yad andJean have an hudge aluminium boat which gets swept easily by the wind and havebeen attaching a parachute, several metres wide, to its prow for years.  "That easily holds against force 6 and ourdecompression lines are always vertical."
Today we tried it on our trainingdives.  We started by installing thestructure of 4 tubes, with 3 buoys and 3 lines. Broadly speaking, this was the same set up that I had used forGuillaume's training, but with two extra warm up lines.  At the back of the set up, behind the lastwarm up buoy, I had replaced the 250m of anchor line with the parachute, whichwe clipped on at the end of another 20m line. The whole thing could be set upvery easily in less than 5 minutes.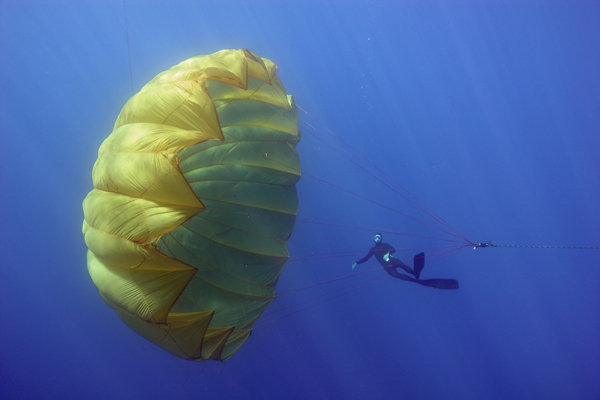 To be honest, at the start, when it was putin the water it looked great but was not really quite right.  Without wind or current, the lines hungvertically and the parachute did not open. It just floated slack.  It wasdifficult to come up with an idea for these conditions. I started to have someserious doubts about the whole set up.
In the end, I waited for the wind to pickup, an anxious moment realising that everything relied on this system and thatI had a month and half of deep dives to organise with people arriving from allover the world.
About an hour later, the wind startedblowing and to my relief, this opened up the parachute.  The wind got stronger and the training lineshung perfectly straight – with only 5kg weights at the bottom.  It was simply fabulous!
Menorca – Mahon 29 July
We have now been on the island for threeweeks.  At the camp, everything is goingwell.  Our days are going according to plan.  When we get back from training, we usually goback to the Finn's place – they have rented an apartment just close to thecentre.  When we get there, PatrickBouillon, their roommate, a top instructor in Dahab and a greatcook, makes us a breakfast that is plenty to last all day.  Everyone is there.  It's a good chance to watch the videos, lookat the underwater photos from the day, debrief our dives and make a plan forthe next day.  These are special momentsand ideas start to flow – explaining theories, having lively discussions,everyone learns a lot.  The "newbies" arereally lapping it up!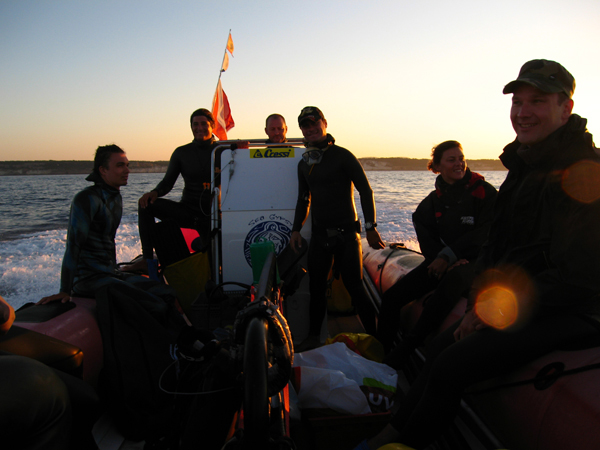 Generally around midday, we leave CallaGardana to see the rest of the island. We never get tired of it.  Menorcalies between the Spanish coast and Sardinia. It is the most eastern island of the Balearics.  It is the furthest from the continent andalso the most wild. It only has very limited urban areas and most of those arearound a few small towns.  The rest ofthe island is countryside with just a few farms here and there.  When you leave the main road which goesacross the island from east to west, you can chose from lots of differenttracks which lead to beautiful beaches in the north and south.  The island is peppered with "callas", rockyinlets – much like the famous "calanques" around the Mediterranean.  After a long walk through the pine forests,we almost always find one of these inlets at the end.  With turquoise sea and white sand – theseviews take your breath away! It really is stunningly beautiful.  In the evening, after a day relaxing, weoften finish with a barbecue on our terrace. The days roll by and are much the same, this is Menorcan life.
Menorca – Calla Galdana 7 August.
Yesterday Jyri beat the Finnish NationalRecord in Constant Weight No Fins, previously held by Topi Lintukangas.  He made a superb descent to 61m.  This is the sixth record for the Finns andthey are still not stopping!  There is agreat team spirit and everyone is making enormous progress.  Language doesn't seem to be a barrier. Finns,English, Swedish, Spanish, French… and above all this great group are gettingreally marvellously well, giving each other advice, coaching each other,getting each other set up for performance dives on the official line andoffering safety.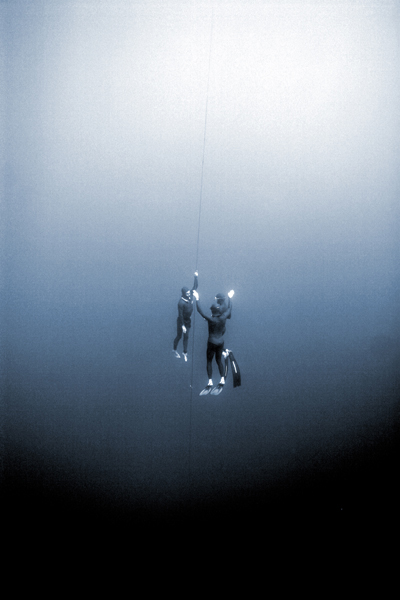 So far there have been two people that havereally caught my attention.  The first isJussi Lehtonen who arrived here one month ago able to dive to 76m. Since thenhe has succeeded at a string of other dives. The ease with which he dives is really quite disconcerting.  He is already at 94m and can be sure he willmanage to get the plate from 100m before he leaves here in just over a week.
The other is Nicolas Girardin, a puristspearfisher from Brittany who had hardly tried freediving.  He talked to me a lot about Ratsin and thebeautiful bass that he fishes for there, the state of the current andvisibility in which he hunts at depths of around 35m.
Nicolas quickly picked up our advice.  He settled in with the group right away.  After his first dive to 40m, his ability toquickly pick things up and adapt have taken him to 60m in just 8 days at thecamp.  One to watch….
Menorca – Ciutadella 15 August
This camp has been a great opportunity fortesting kit.  Freedivers from all overthe place have put all their equipment together in a shed below the divecentre.  This shed is a real treasuretrove! Everyone is happy for others to borrow their equipment to give it atry.  Masks, fluid goggles of alldesigns, nose clips, rare types of monofins and bi-fins, original weightsystems, elaborate lanyards… but the most curious of all is the high pressureinflation system that Yohann Poilblanc has brought with him.
His arrival at the camp has been one of thememorable moments of this summer.  Hearrived from Pau, with a car loaded down with freediving equipment, withFlorence and Daniel.  Yohann knows allthere is to know about high pressure. Soft tubing, rigid tubing, high pressure valves, automatic valves – thatis all his thing.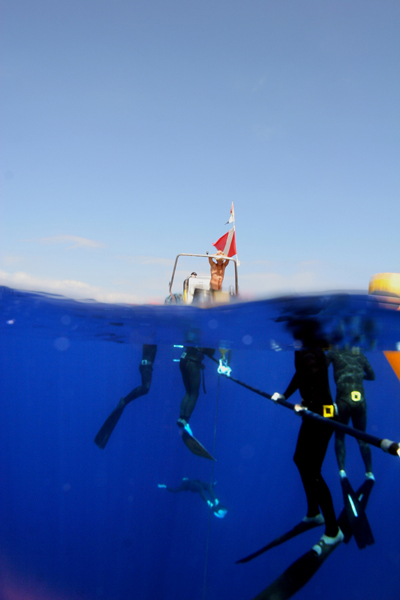 Some time ago, he had made a point ofdeveloping an extremely high pressure system that has the advantage of beingactivated in two different ways:
For the first option, it could be usedmounted on a sled, just by releasing a handle mounted on the system. The devicewould release air incredibly quickly, much faster than I had ever seen beforewith other high pressure hoses.  The airinflates the lift bag and the sled is pulled towards the surface.
The second way of using it was reallyamazing. The valve system can also be pre-programmed to activate itself at apredetermined depth.  Already useful on asled, this could also equally be used one day as a security device, mounted atthe bottom, on a pipe above the weight. For a dive for 80m for example, the valve could be set at 9.5 bar (85m). In an emergency situation, we couldlower the device from the surface down the line to 90m. Then it would selfactivate and bring the freediver back up. Everyone loved it!
Nice 10 September
What can I say? It really just went sowell.  The concept was a greatsuccess.  Bringing freedivers from manydifferent levels together worked really well and bore fruit.  The parachute system developed to make thetraining sessions safe worked marvellously. From now on, I can organise training just about anywhere and won't haveto worry about currents or wind.
In total we had a total of 28 freediversvisit us from 6 different countries. Everyone made loads of progress during their time at the camp.  More than 10 national records were beaten,and at the end of the summer, Jussi made a constant weight dive to 97m.
Two months of pure pleasure with such agreat outcome have already made me start thinking about "Freedive Training Camp2009". This year the camp will take place in the island of Faial, right in the middle of the Atlantic, in the archipelago of Azoresfrom the 1st to the 31st of August.
This beautiful island offers excellentconditions for deep freediving. The water is warm and clear as crystal. Thefauna is amazing. You can dive with species from the Atlantic and others thatyou'd never suspect to see there such as mahi mahi, wahoos, big tunas, mantarays and hammerhead sharks. For those who love marine mammals, the archipelagois the place to be. The Azores is a sanctuary for many marine mammals. The 2nd week of training will match with the sea week. There will be a huge nauticalfestival on the island with folk music, traditional gastronomy, concerts andlots more.
Summaryof the safety rig using the parachute
For a deep dive, freedivers use the"performance" line.  Before diving, thediver must announce their time of their descent and how long it will take toget back up.
At Official Top, he starts hisdescent.  From the surface, his progressis monitored on an echo sounder, by the stop watch and by feeling for any pullson the line which shows the smallest vibration.
When he gets to the bottom, the freedivermakes his turn, pulls once on the line and starts his ascent.  Once this has been seen ( echo sounder ) andfelt from the surface ( vibrations on the line ), we allowed 10 seconds for theturn before starting to pull the line up at 1m per second (the line is onlyweighted with 5kg).
At the surface, we tell the first safetydiver when to dive.  He must meet theascending freediver at around 25m.  30seconds after, the second safety freedivers is sent down to replace the first.If necessary, a third freediver is on the surface, ready to descend.
In case it becomes too hard to pull theline up by hand (if the line is somehow braked or stuck),  there is also a motorised system.  The line is tied off to the stern, and theboat, the moving part of this system, can be detached from the main part of therig by a quick release mechanism. With the engine engaged, it can then pull upthe official line and the freediver at a speed of 5 knots.  During this time, the safety freediverprocedure continues.  The freediver ispicked up and brought back to the surface.
Here are some videos of the devices used:
Translated from the French by Sam Kirby (www.saltfreedivers.com)