Weather forecasts for the Winter Olympics in Vancouver, B.C are looking up — both literally and figuratively. The National Oceanic and Atmospheric Administration, (NOAA) will be dispatching its specialized, high-altitude aircraft, The Gulfstream IV, from a base in Japan this January to help collect information for weather forecasts. Dispatching the jet from Japan allows the aircraft to gather data on storms several days before they hit the West Coast of North America.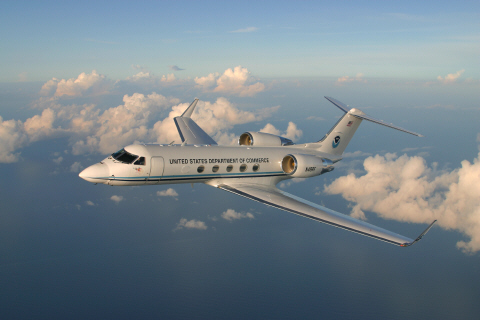 Unlike the swarms of weather balloons released on a daily basis from land, there really is no existing protocol for gathering frequent or consistent atmospheric measurements over the ocean. But now NOAA and the Winter Olympics can rely on the Gulfstream IV and her 10-person crew to provide data that will give an increased advanced window of warning when they see signs that a major weather system is brewing in the Western Pacific.
Flying at an altitude of 45,000 feet the NOAA jet is equipped with tiny parachutes – instrument packages that plunge through the sky measuring temperature, pressure, humidity, wind speed, and direction of the wind 2x per second. This data is then fed into NOAA's forecast models.
Learn more about the NOAA aircraft here.