Walking the DEMA floor we took the time to talk to Michael AW (Director) and Amanda Cotton (Field Editor and U.S. correspondent) at Australian based Ocean Geographic magazine. Both of them are passionate about the underwater world and very talented photographers.
With an impressive editorial board comprised of the best photographers and film makers (David Doubilet and Stan Waterman to name a few) in the industry, Ocean Geographic place itself as the publication for the true ocean and environment aficionado. The photography is stunning and the quality of the publication reminds a lot of us of late Ocean Realm and Fathom. Fore more info go to their official website.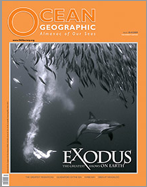 (filed by Nico Danan)
Get More Articles Like This!
Subscribe to our weekly newsletter and get more interesting stuff like this direct to your email inbox every Friday.