The United States Apnea Association (USAA) is pleased to announce that Robert King, a USAA member, set a new National record in the freediving discipline of free immersion to a depth of 86 meters / 282 feet today, at Dean's Blue Hole on Long Island in the Bahamas. King's performance of April 19, 2010, surpasses the record he previously set in 2009.
Participating in the 2010 Vertical Blue freediving competition — also known as the "Suunto Dive-Off" — Rob King made his round-trip dive in three minutes and nine seconds. King's dive is the deepest dive of any American to date during a formal competition. After reaching the surface Rob provided a big smile followed by a quick surface protocol. He made it look easy.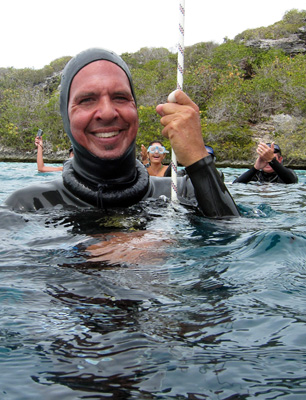 William Trubridge's Vertical Blue still has seven days of competition remaining over the next nine days. King said, "This was a nice way to start the competition. Thanks to Herbert Nitsch and Will Winram for coaching and advice during training."

Free immersion is the freediving discipline that requires the athlete to pull their way to depth and back using their hands to pull down and up the competition line while holding their breath. It is one of three recognized self-powered disciplines in the diving to depth arena. The other two are constant ballast and constant ballast without fins. Both require the athlete to swim to depth and return under their own power.
photo courtesy of Grant Graves.