With being the brand name that introduced the world to scuba diving 75 years ago this year, it's fair to say that they know what they're doing when making kit. Right now they have a fantastic range of gear to help you discover the underwater world. From taking your very first breath underwater to becoming a seasoned diver, Aqua Lung has something for you.
Aqua Lung equipment has intuitive features and functions as well as stylish design, so you're comfortable, safe and look good too at the dive site.  Aqua Lung makes gear suitable for all waters temperatures around the globe and with the high quality of their products they're a great brand to put your trust in as a beginner.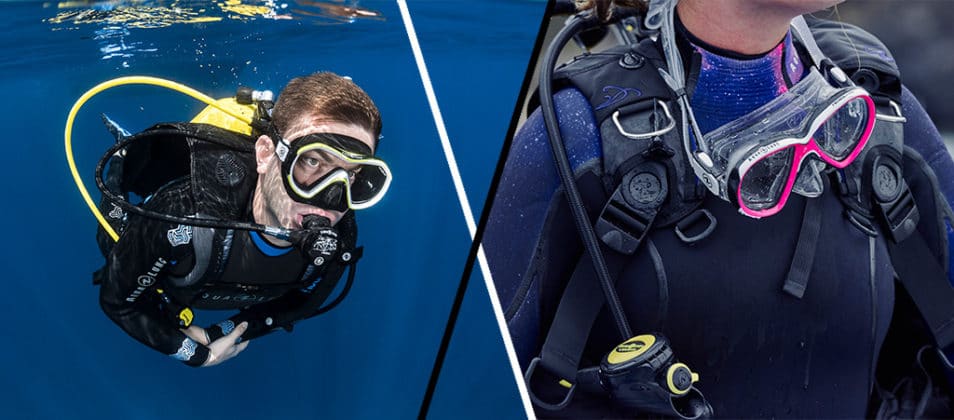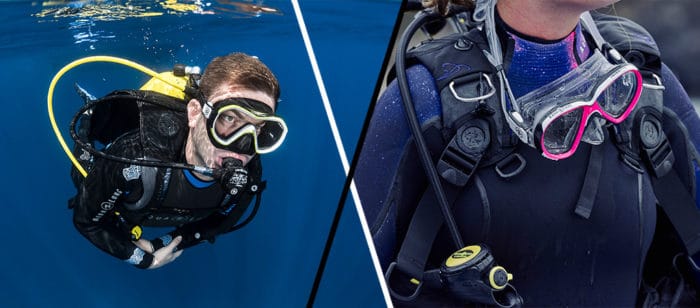 Masks
Your mask should be the first bit of kit you should be looking at buying as it will stick with you for most of your diving career no matter what direction you end up going.  The
The Reveal has a smart and subtle design to them but features some smart details that make them super comfortable and look good and they are available in both a
Universal Advanced Silicone Skirt
. This UASS is made from a new premium grade 
Crystal-Clear Silicone
 that is soft to mold to your face and keep the water out.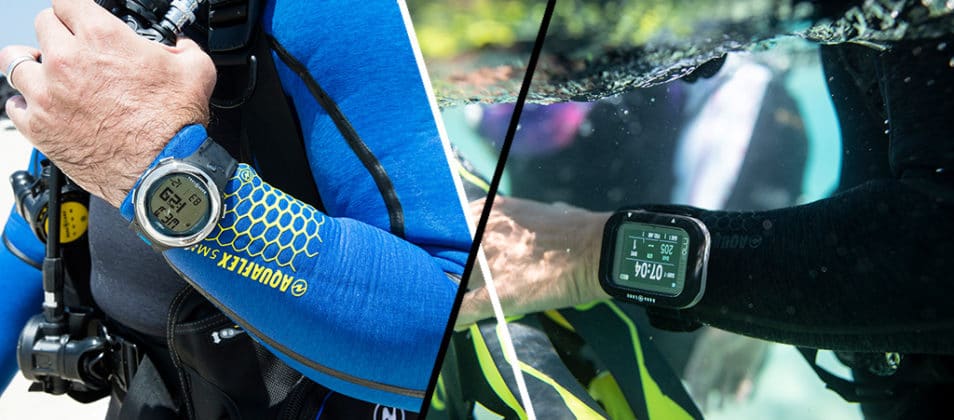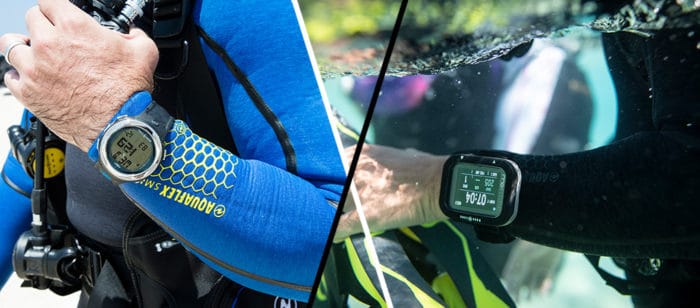 Dive Computers
Aqua Lung makes a whole range of for any diver but any of them can be your first dive computer.  The is their first to have a color screen display and a rechargeable battery that makes understanding it and diving it easy.  Dive computers can give you a lot of information and can leave it up to you to understand if something is bad. The will change the color of certain information to tell you if you need to do something makes it much easier to understand, even at a glance.
The rechargeable battery means you can top it up like your smartphone with a USB cable and allows for the bright colorful screen. If you want a smaller watch sized computer the is a smart computer you can wear day to day. If you still want a large screen computer but want to save some money you can look at the budget that will keep you safe in the water or its big brother the that has more features like Bluetooth.
Bluetooth allows you to download your dives to your smartphone or tablet and DiverLog+ app anywhere but right now is only available on the i300C and i770R, the other computers require a USB cable.  Wireless communication makes downloading your dive logbook but also makes it easy to change the settings on your computer and sync when you need.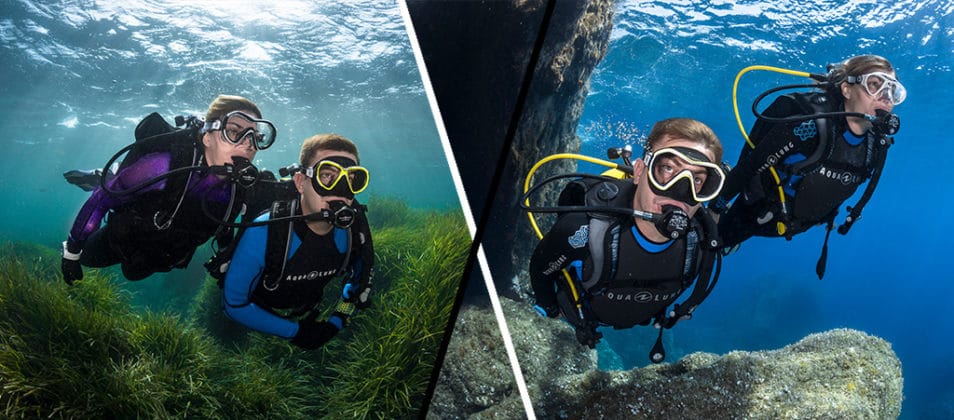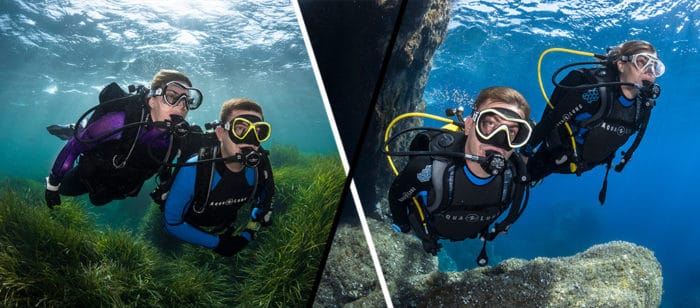 Regulators
If you think you're going to be a travelling diver lucky enough to fly to far-flung warm waters around the globe then saving weight on your regs is essential.  is scaled down to be as compact and lightweight as possible while still delivering a quality breath. The only thing they really compromise on is that the Mikron aren't suitable for waters colder than 10°C, which is pretty cold, but if you're not even thinking of diving in cold waters then the Mikron should be a serious contender.
If you are thinking of diving in Colder Waters then the ticks all the boxes for me and sits at a fantastic price point for new divers. While heavier than the Mikron the Core Supreme are still a lightweight regulator that you can travel with and dive at home with.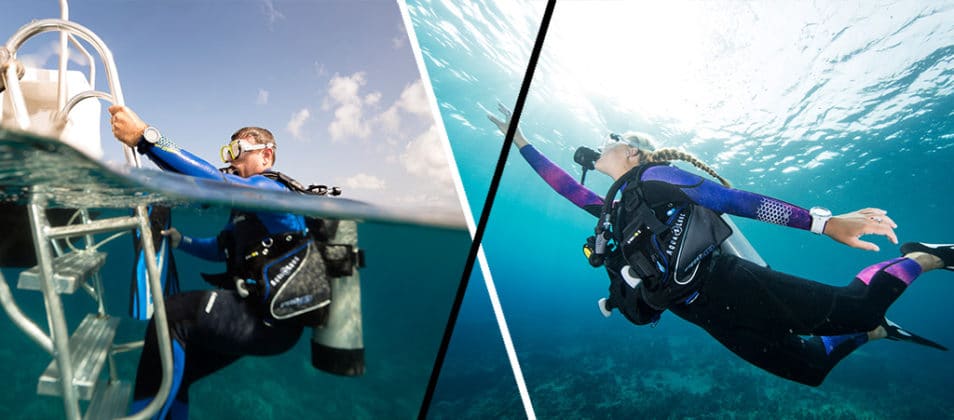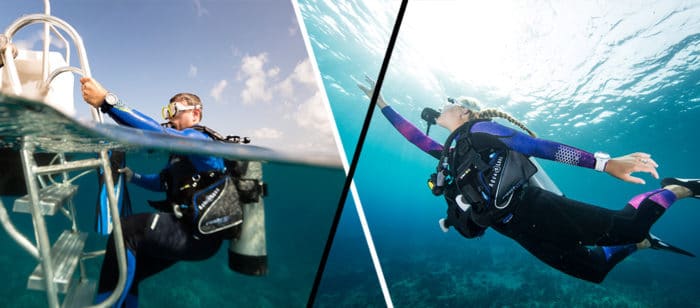 BCDs
The , much like the Core Supreme Regulator, is a lot of jacket for what you pay.  Integrated Weight Pouches, Knife Grommets, and clever storage options are all put together in a BCD that's made from a tough material that is going to resist the usual wear and tear a BCD goes through. ResisteK™ material resists the effects of Chlorine and salt water so the BCD will stay the color it was when you bought it much longer than some other BCDs.
Another great leap in the BCD market from AquaLung are the and that aren't made in the stereotypical Small, Medium, Large sizes.  Both the Outlaw and Rogue are customizable so you can pick and choose the size of shoulder straps, backplate, and waistband to fit your body shape perfectly.  With a normal BCD if you're tall and skinny then you need an XL BCD to fit the length of your back to be comfortable but the rest of your straps will be big and loose… With the and just pick the best fit for your body shape and as a bonus it can be disassembled for easy packing.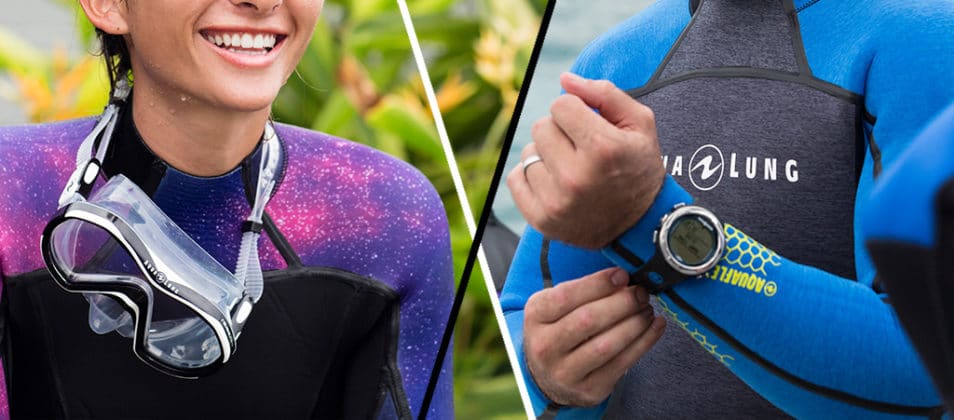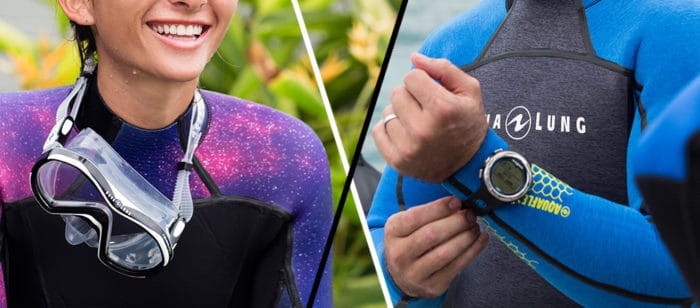 Suits
You'll want your own suit as soon as you try a rental suit on. The suit that stands out for me is the
perfect all-rounder
 thickness that will keep you warm but isn't too thick and chunky. The
super-stretch neoprene
 that has great feel to it and allows you to move and get in and out of the suit easily.
For warmer waters where you only want a shorty the  is a great shorty but if you'll be diving in cold water then are among the best. Unlike other drysuits the Fusion are two separate suits in one, an oversized internal dry layer and an elasticated outer shell that tucks the suit close to your body. The benefit of Fusion is it's much easier to get into because it's basically a suit that's one or two sizes bigger but the suit isn't baggy because the outer shell will tuck it all in, make you look good and hydrodynamic.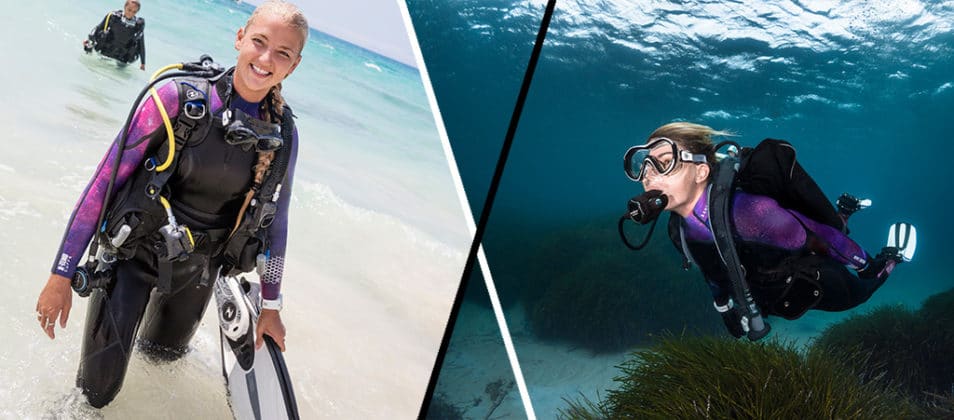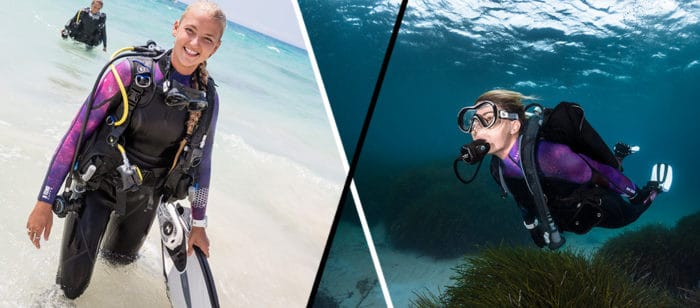 Female Divers
Aqua Lung have a range of equipment with women in mind. Small features designed by female divers make a big difference like an extended Comfort Buckle System on their
Their
This is a sponsored post – for more information please see our disclosure policy.