Yesterday the Sea Shepherd Conservation Society's (SSCS) vessel the Ady Gil was severely damaged and almost sunk in an attack by a Japanese whaling harpoon vessel many times its size.
The SSCS had only unveiled this ocean defense vessel in October 2009, which was previously known as the Earthrace. It is a fast, futuristic looking trimaran that recently set the world record for global circumnavigation. The vessel renaming reflects the ship's benefactor, Ady Gil, who helped acquire the vessel.
According to a report received from Sea Shepherd's Paul Watson (who helped set up Greenpeace in 1972), the crew barely escaped with their lives and were rescued by their newest vessel the Bob Barker. Paul Watson who now leads the SSCS has been labelled an eco-terrorist and dangerous extremist by his former comrades from Greenpeace, with whom he is allegedly engaged in a long-running feud. While both Greenpeace and SSCS have targeted the Japanese whale hunts in the Southern Ocean, Greenpeace refuses to co-operate with SSCS by sharing information on the whereabouts of whaling fleets because it says SSCS uses violent tactics. Watson counters this, saying his methods yield results and SSCS has sunk 10 whaling ships, with no injuries caused.
A news report from Indybay.org writes that the Ady Gil, while stationary, was intentionally rammed by the Japanese whaling security vessel, the Shonan Maru 2. The Japanese whaling fleet was then caught unawares in the early hours of the morning by new conservation ship, the Bob Baker, an ex-Norwegian Antarctic ice-class whaling vessel that was bought in 2009 and secretly refitted in South Africa.
They had apparently been focussing on the location of the Steve Irwin, paying New Zealander Glenn Inwood's Omeka Public Relations company to hire charter flights first in Albany, and then in Melbourne and Hobart to locate and follow the Steve Irwin. These flights were successful until low cloud cover hampered their vision of the vessel.
The Sea Shepherd also had some unexpected assistance on departure from Hobart from six people on a small motorboat, who identified themselves as 'Taz Patrol'. They were patrolling the perimeter of the Australian Economic Exclusion Zone (EEZ) locating the Yushin Maru and twittering its location to Sea Shepherd and other followers.
The Australian Deputy Prime Minister Julia Gillard has said that the Australian Maritime Safety Authority has been directed to investigate the incident, but the Australian Goverment would not send a boat to monitor operations in the Southern Ocean as previous expeditions had not influenced any behaviour.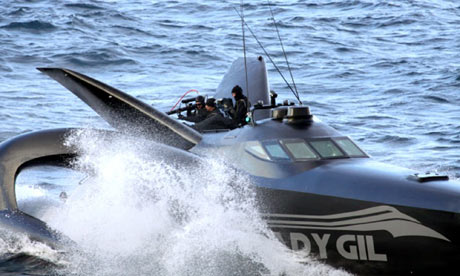 References:
Indybay.org
Sea Shepherd Press release
The Guardian