Welcome to the world of scuba diving, the experience many find to be life changing "rock your world" kind of stuff. It literally is another world, one that many people experience only through books or film, but not you. . . . no, you are going for the real thing.
So let's talk about concerns you may have. Many people are frightened at the prospect of being underwater, afraid of feeling confined or suffocated. Those very strong and sure- footed above water may feel awkward at the sensation of being weightless underwater. Some are concerned about what's below the surface, that maybe "not so friendly" creatures could be hanging around, just waiting to rid them of some extra body weight. First of all, one of the things we work on in the pool is teaching you to relax underwater. You get acquainted with your regulator, learn to trust it and know that you have a continuous air source. As you relax, the claustrophobia goes away. With practice, you will begin to enjoy the feeling of weightlessness, of being able to move vertically without the strong pull of gravity. Some find that they enjoy scuba much more than snorkeling, because they do not constantly have to clear water from their snorkel. As for sharks. . . . you really are lucky to see one. Unless you dive an area specifically touted as being a shark dive, chances are you won't.
So you are willing to give it a try. You may ask, "Why do I need to take a class with homework, tests, and pool time? Why can't you just take me to the ocean with some gear and show me how to use it?" Excellent question. And the simple answer is, we want you to be safe. We also want the ocean you dive in to survive your visit, and we don't want your unfortunate dive buddy to pay the price for your lack of knowledge. So no, scuba diving can not be taught in an afternoon, much to the dismay of those planning to learn to dive as their tropical vacation rapidly approaches.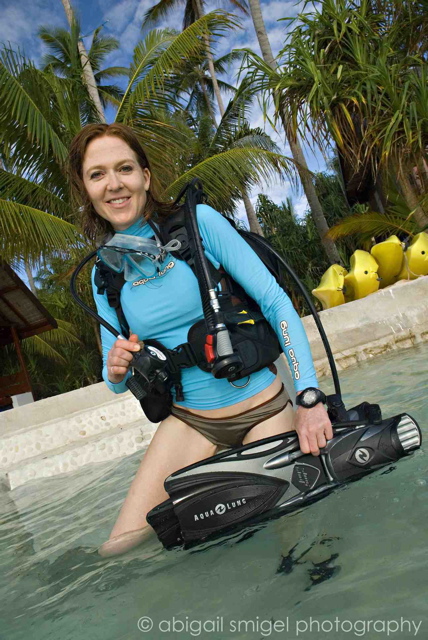 Learning to scuba dive is a commitment, both of time and money. Once you are certified, we want you to keep diving, so the skills you worked so hard to attain are not lost. The majority of what we teach you in an Open Water Scuba Diving Class is related to safety. Yes, most anyone who is not fearful of the water could probably strap on some scuba gear and breathe air. I'm thinking you could probably even teach a monkey to do it, they just have to be able to wrap their lips around the mouthpiece, which is why I can't teach my dog, there's just not a good enough seal on the regulator. Insert regulator in mouth, breathe in . . . then out. Perfect. Now is where your class comes in handy. We teach you about buoyancy so that you aren't crawling on the bottom, or popping up to the surface. We teach you about the effects of pressure on your body, so that you can limit the chance of decompression sickness and nitrogen narcosis. We teach you about your equipment, so you know how it functions, and what to do if it doesn't do what it's supposed to during your dive.
You learn how to be a good dive buddy, so that if either of you have a problem, you can help each other out. And lastly, we like to smile and laugh. We like to tell funny diving stories, we like to take away any anxiety or fear you have about learning to dive, and we smile when you accomplish your goal of becoming an open water diver, because now we have given you the beautiful gift of diving to cherish as we do.
(editor: francesca.koe@deeperblue.com)