Poor Audrey.
I finished reading Carlos Serra's The Last Attempt, closed the book and began looking through old E-mails. On October 13th, 2002 at 2:55am GMT, I'd received a message from someone apparently a resident of the Dominican Republic. He'd seen something horrible on a local TV station and had written about it to one of the many lists I then subscribed to. Lists which were, at the time, mainline communication channels for the freediving community. This message just happened to be the first one I got the news from. Others followed quickly, echoing the horrible developments.
There had been a freediving accident at Bayahibe the day before. During an attempt to break the absolute world record in the no-limits discipline, celebrated freediver Audrey Mestre, wife of another freediving icon, Francisco 'Pipin' Ferreras, had lost her life.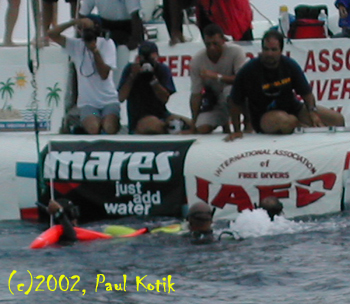 Everyone in the global apnea community was in shock. Everyone immediately went looking for answers to a million questions. The email lists were absolute chaos. At first, nobody could tell anything specific about what had gone wrong. Everything was speculation. The best sources were Spanish-language media, but these weren't accesible to much of the largely English-speaking world of freediving. After a number of days news finally started to trickle out from the event organizers, the now-defunct IAFD (International Association of FreeDivers). One voice in particular stood in the line of fire, that of the IAFD President, Venezuelan-born Carlos Serra. He stood shoulder to shoulder with a grieving Pipin and asked for time to figure out what had gone wrong.
It was too late. Rage had taken over in much of the apnea nation. Serra's public statements, and some peculiar ones by Pipin, seemed vague and inadequate at best. Voices in the community decried them as lies and cover-up. The public controversy became gruesome.
Time passed. New information became public from time to time, picked up by a shrinking audience of the interested. The matter of the empty pony bottle on Audrey's sled came up. The sled video recording appeared in a couple of documentaries. IAFD, its credibility exhausted, closed down for good. Rumors of Hollywood producer James Cameron's interest in optioning the story were floated.
Pipin published a book about his wife's death. And now, Carlos Serra has published his own.
As I read, I was full of grief. I never met Audrey Mestre personally, but when she died it was like I'd lost a close family member. A fellow freediver had been taken from this planet, and I suffered.
Dr. Jekyll and Mr. Hyde
Pipin Ferreras was through the 1990's one of only a handful of stars in freediving, an icon in an emerging international sport. He was my own initial focus of attention when I entered the sport back in 1997. He was the first one I'd heard of. He was the idol. He was the hero. He was The Man. Once one got more into the game the negative stories about the icon were heard, and they multiplied. Now,with Carlos Serra's account of Audrey's last days, they explode.
Serra describes Pipin's and Audrey's marriage as an appalling travesty. Pipin made them look to outsiders and to the media like happy couple deeeply in love with the ocean and each other. To those close to them Pipin was, by Serra's account, a possessive monster habituated to mental and physical abuse of his wife, increasingly and desperately envious of her as she started to reach greater depths than he had.
The Audrey in The Last Attempt, on the other hand, sought only to please her husband. Profoundly infatuated with him since her first encounter with him at Los Cabos in 1996, she tried desperately to satisfy his every whim. It was, it seems, never quite enough. I was reminded of the Ike and Tina Turner story.
The Last Attempt includes an interesting psychiatric approach to the story, wherein Serra draws his former partner's behavior against the diagnostic criteria for malignant narcissism. Serra introduces comment by a prominent psychiatrist and paints a credible picture of a morbidity recalling, on a small scale, that of a number of infamous dictators.
The Day Everything Stood Still
The Last Attempt recounts Audrey Mestre's last day in great and intimate detail: Pipin's erratic behaviour, Audrey's gloom. The last dive itself. The dreadful recovery of Audrey from the depths, the rush to the local hospital and then, finally, the end toward which events inexorably moved.
On that awful day the pony tank that should have filled the sled balloon on Audrey's dive was empty. Audrey got to 171 metres, opened the valve, and nothing happened. Someone had tragically forgotten to fill the tank.
Or had deliberately made certain it would be empty.
Make no mistake: Carlos Serra is convinced that Pipin Ferreras is directly responsible for Audrey Mestre's death. His only uncertainty is whether or not Pipin intended to murder his wife. The most riveting passages in The Last Dive are, perhaps, the meticulously detailed evidentiary material addressing that very issue, the matter of intent.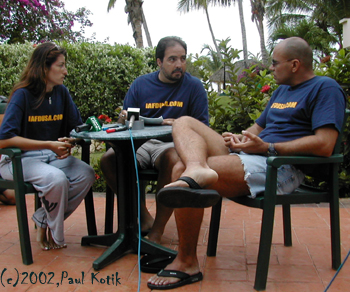 Scuba Safety diver Pascal Bernabe is sourced for eyewitness testimony from the bottom plate, and Wiky Orjales from 90 meters. Orjales serves, too, as an interpreter of the Santeria theme which runs through the book. Voodoo. Pipin is a devout believer of the voodoo religion of his native Cuba. The red bandana on Audrey Mestre's wrist on that deadly morning is conspicuous in video footage and stills seen, by now, all over the world. The Last Attempt provides new insight into the bandana's meaning and links to other Santeria signs and signals.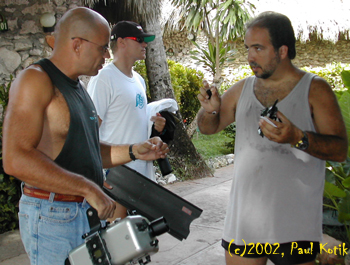 Carlos Serra's The Last Attempt is a masterpiece. The author presents himself as a man who has lost everything when he broke with Pipin, everything save a duty to tell the truth about Audrey Mestre's death. Serra lost his job and his home. His wife divorced him. He assures the reader that it is not, however, his intent to judge Pipin but rather to tell his story and let the reader judge him. The Last Attempt is a chronological account of how he has reached his conclusions, and in what order. This has ended up as something of a detective's novel, but without a decisive ending. Meticulous as he is, Carlos Serra cannot be omniscient.
The reader, indeed, must write the verdict.