Tiger Beach is a shark diving Mecca that draws scientists, film crews & divers from across the globe. If you have never slipped beneath the surface at this underwater paradise, it should definitely be on your, "Bucket List." Thankfully, the white sand here is free of beach chairs or umbrella-adorned drinks, and instead offers massive apex predators. The potential for encounters that are up-close and personal will far exceed anything you could have imagined. I have spent a great deal of time at this adveturous location and it remains one of my favorite places on the planet. Afterall, it was while diving at Tiger Beach that I made a dead fish talk and subsequently my fiancé and I were hooked! We have been together ever since.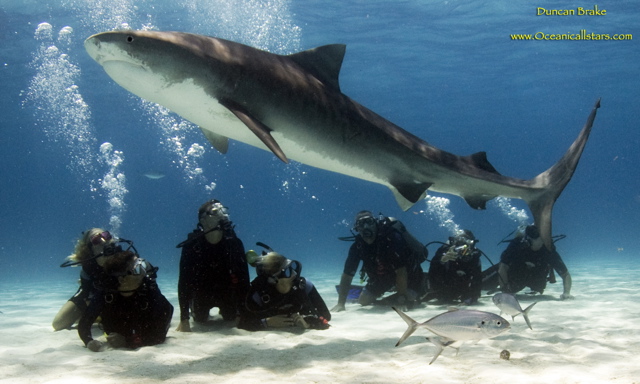 Many of the female tiger sharks at, "The Beach," have become celebrities because they are seen year after year. Emma, a big beauty, even has her own Face Book page. They have become regulars on Discovery's Shark Week and countless other television programs and documentaries. The shallow depth and aquarium-like visibility make this an ideal location for filming and photographing these charismatic mega-fauna. Scientists and researchers are also to trying to better understand these animals as a means of protecting their future survival.
There is also a reliable troop of lemon sharks that inhabit these waters; numbering anywhere from 15 to 30, when you visit you will find them gathering around the boat. The lemons are more interested in the food than the tigers and seem oblivious to divers at most times. I have also seen Caribbean reef sharks and nurse sharks onsite, with the occasional appearance by a great hammerhead!! Those are my favourite trips. The cast of characters is dynamic, making each trip a unique experience.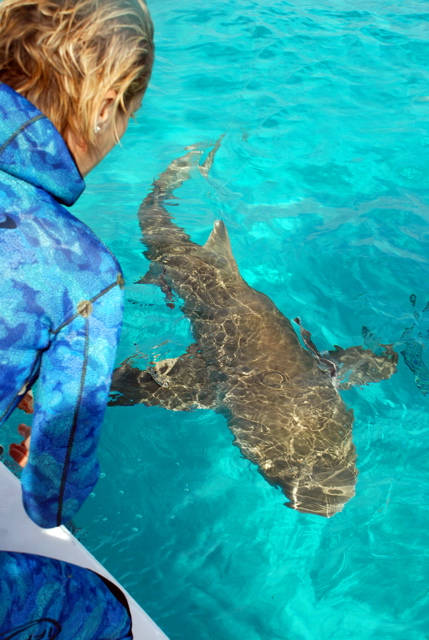 Despite the global popularity and love for this site, it remains an unprotected region. It is an open target for sport fisherman seeking out world records, commercial fishing boats weekend warriors heading across from Florida. Sadly, some people have no respect for sharks, only a skewed perception of their purpose or a lack of the fundamental understanding that we are all interconnected. On my last trip, we encountered a well-known female shark that looked like she had been hooked sometime in the last year. She had clearly suffered damage to the right side of her jaw and was extremely skittish. This is an unfortunate manifestation of the often-misguided battle we humans wage against these vital animals. However, resilience can only take you so far. This shark also appeared much skinnier than most of the other regular females. She never even came close to the cage until all the divers were out of the water. Tiger sharks are known to be cautious, but curious, eventually getting close enough that pictures or footage are just a grey/brown blur. So, it is truly devastating to see such a magnificent creature reduced to a fearful shadow of itself. With one single heartless act, humans have the capacity to remove the power and beauty of an animal that has otherwise survived millions of years unaffected.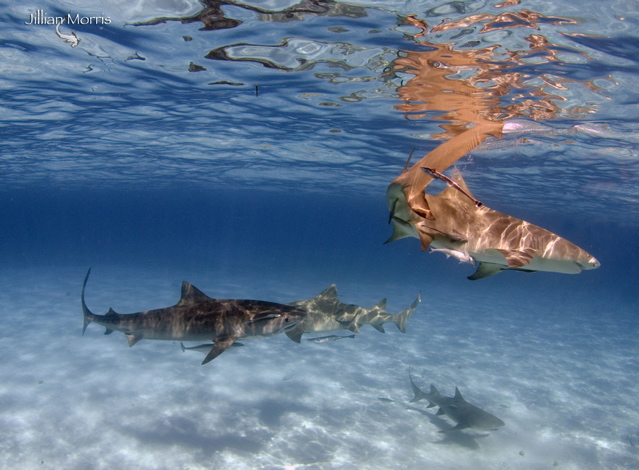 On my most recent trip to Tiger Beach, I was acting as a private dive guide for "The Undertaker" (a professional wrestler) and his son. It was fascinating to see a man who has lived in an arena with larger-than-life qualities get as excited as a kid on Christmas morning, smiling so much he can hardly keep his regulator in place. At 6'8, even a humongous wrestler felt small next to some of the 8-foot long lemon sharks that spent the day with us. I am pretty confident not many other things have ever made him feel so much smaller. "The Undertaker" asked great questions and spoke with terrific enthusiasm about his very first shark encounter, which he experienced while diving in Fiji. He ardently listened to me speak about the plight of sharks and about safe seafood choices, recycling and marine protected areas. I would like to believe that he is now acting as an advocate for these animals. I am also encouraged that due to their positive experience at Tiger Beach his son is also likely spreading the message to his friends and inspiring them to go see sharks up close.
As a dive guide, videographer and shark naturalist, I have been blessed to share these incredible animals with people first-hand and to capture images that inspire compassion the world over. It is extremely rewarding and I hope that I am able to do so for many years to come. Connecting people with sharks is necessary for the future of their survival, and ultimately ours too. The Bahamas and Tiger Beach are now facing the threat of a shark-finning corporation moving into their waters. Bahamians, the Bahamas National Trust, dive operators, scientists and conservation groups are uniting to prevent would be a complete atrocity and degradation of the oceans in this region. It is incredible to see so many diverse groups collaborating and working towards a common goal. I hope that our voices and actions will be strong enough to save these sharks!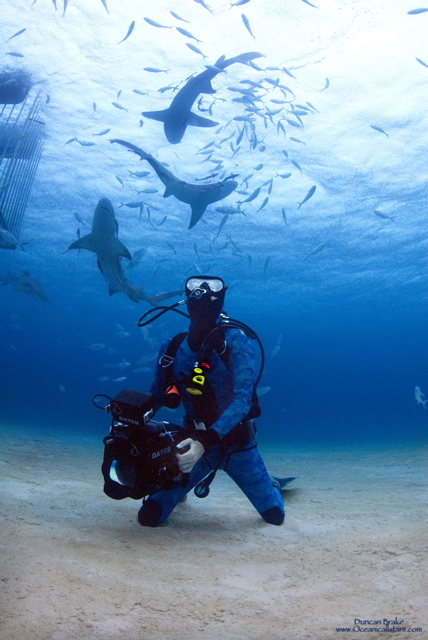 Want to dive Tiger Beach? Join our June expeditions for the dive trip of a lifetime on the Tiger Beach Expedition with OceanicAllstars.
Learn more and get involved in protecting the sharks of the Bahamas here: http://www.bnt.bs
Photos courtesy of Duncan Brake, Nathan Moody, and Jillian Morris.