Grand Cayman, Cayman Islands — It must be something in the water for Erin Magee, because she has now successfully surfaced with four records at the PFI invitational competition, Deja Blue II.
On Friday the 13th of May, Magee proved that superstitions would not deter her from reaching one last, new depth benchmark before the comp ended. Erin performed a flawless dive to 80 meters (262 feet) in just 2 minutes and :32 seconds to become one of only five women in the world who have ever reached a depth of 80 meters (or greater) in the discipline of constant weight. Erin's ascent was relaxed and she completed her surface protocol quickly and smoothly. The AIDA judges said, "Erin made our job easy. She finished her performance so strongly there was little work for us to do. She has a great deal more in her and it will be a joy to see how far she will be able to take this."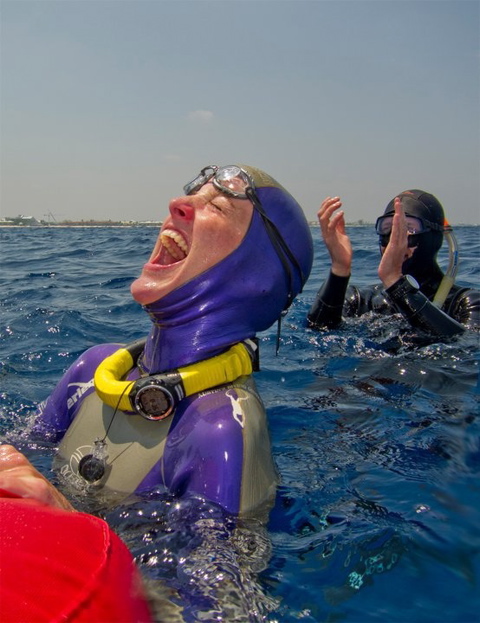 Magee said, "I felt the strongest I have on this dive. It surprised me that it felt so great. I received great tips and coaching from my fellow freedivers. I wish I had more days in the competition to try to go for me. I want to thank everyone involved in the competition for helping me reach new heights or depths in this case." Relatively new to the sport of freediving, Erin became serious about her training a little over two year ago; she is now a Staff Instructor with Performance Freediving International.
Constant Weight (CWT) challenges the athlete to swim to depth and back with the use of fins or a mono fin under their own power while holding their breath. DeeperBlue congratulates Erin on her myriad achievements — view her 80m CWT record-setting dive in the video below.
Photo courtesy of PFI.