Vertical Blue is already underway, with several national records already broken and some world records in serious jeopardy.
But hang on – let's back up a bit and set the scene.
Dean's Blue Hole was first "discovered" for freediving by Sebastien Murat, who was working on the north end of Long Island in the Bahamas at the Stella Maris dive centre. While in Egypt a few years ago, he and William Trubridge discussed the possibility of the spot as the ultimate freediving training site. It sounded too good to be true and even after hearing from the locals that it was probably a good bet, William was reluctant to believe that he had found the ultimate training spot.
When William made the trip three years ago down the main road, off to the left on a sandy back road, slaloming around curious and foolish land crabs and finally set foot on the beach. When he peered into the Blue Hole, there was a proverbial moment when the heavens opened up. "It's here!" Even now, William's face lights up when he talks about that moment. That was the day when he won a freediving jackpot. Now he is sharing the winnings.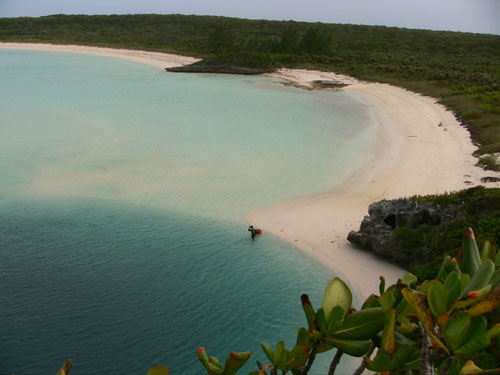 It is indeed freedivers wet dream. No currents or swell, excellent visibility, warm climate, and the ability to leave a platform and counter-balance permanently set up for use at any time of the day.
The Vertical Blue event is defined by this physical nirvana but also by William's desire to share it with an easy-going group of freedivers, who get along and have a similar vibe, for lack of a better word. William after all, is trained as a geneticist and so probably pulled more strings than we are aware of to make this event a success. On this iteration of the experience, the freedivers assembled are so laid back out that they give soul surfers a run for their money. This, despite the cutting edge depths being attempts and several new divers about to be launched onto front pages of DeeperBlue.net. There is no evidence of the old-school big ego here. The indomitable Dave Mullins who calls an 80m dive a "warm up," is as down to earth and likeable as they come.
Overall, the island has a comfortable, rural feeling and relaxed atmosphere that is welcoming for many of us who hail from big cities. Several competitors are staying at Ellen's Inn in Deadman's Cay, a cozy collection of bungalow rooms with two common areas, kitchen, wireless internet, gear rinsing station. Dean's Blue Hole is only a ten minute drive away.
Deadman's Cay is identified by a small green sign along a narrow road peppered by a gas station or two, a roadside bar called Max's, a small food store that gets fresh veggies once a week by boat, small houses, palm trees and the occasional axle-breaking pothole.
William Trubridge seems pleased so far with the way the competition logistics and the excellent training results so far. The only caveat has been the weather, recently. Normally, William says, this time of the year is clear and calm. In the last few weeks, there have been frequent thunderstorms, high winds and poor visibility in the Blue Hole. When the tide is high and the current is flowing, you can see waterfalls of sand spilling down over the edge of the hole, adding to the turbidity. The forecast calls for this weather to move out starting Thursday and clear up. All the freedivers are looking forward to seeing the Blue Hole at its best.
I arrived yesterday and dove in the Blue Hole for the first time. It was more of a grayish hole, with visibility below 5m. Today, however, it had improved measurably. But it was still dark for the competitors at the bottom plate. Despite the high winds, the current was not a factor on the surface.
If you've been following the official site of the Vertical Blue competition (www.verticalblue.net), you will see that the elite divers here having been giving the deep blue sea a good stirring (hence the reduced visibility). Dave Mullins, Ryuzo Shinomya, and William Trubridge have been over 100 metres in their disciplines and will look to leave with some new world records before this thing is over.
Today, I volunteered to do surface video on the diving platform so I had a front seat on the action.
We had a short competitor list today due so some athletes not feeling well enough to dive. Natalia Avseenko went first with an easy monofin dive to 62m. She has her sights set on the unassisted constant weight world record and will likely attempt it in the next few days. Natalia was followed by William Winram going for 91m in free immersion. He turned early with a sticky ear and because he wasn't satisfied with his descent rate.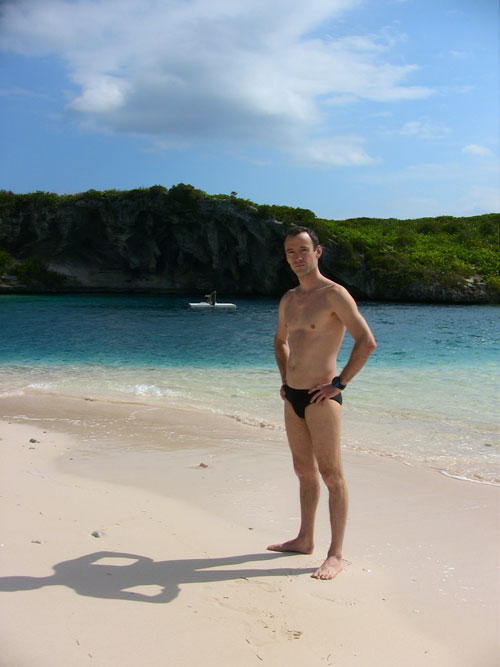 Christian Maldame followed with a new French national record in constant weight without fins, breaking his own record with 62 metres in 2:45 (more an Christian below).
And finally, Kerian Hibbs from New Zealand made an easy dive to 60m. There were pink faces all around, clearly the freedivers have taken full advantage of the multi-day format of the competition, easing into dives over several days.
Christian Maldame sat down with me at the kitchen table after his record-breaking dive and told me about how he came to become a rising star in no fins constant weight. Christian is forty-seven years old and has been diving competitively for five years after a lifetime in the water. He says that the main challenge for him, coming from a winter of pool training, is getting used to diving deep and equalizing. He also had been battling sticky ears and sinuses over the last few days and waited patiently, despite the relatively poor conditions for the Blue Hole, to get a day where everything works well.
After only diving for one year without fins, Christian is fast approaching elite depths in the purest discipline. I also asked him a few very important questions and he answered as follows: black swimsuit over pink, red wine instead of white, and Atlantic Ocean rather than Pacific. He makes a great salad from the limited produce available on Long Island and when asked to whom he would like to dedicate his record-breaking dive, he smiled and said, "my daughter."
While the divers were making their attempts, a large Amberjack, a Tarpon and a Grouper circled the Blue Hole, keeping watch on the proceedings, and sending thrills through some of the divers new to these waters. Even though these geological anomaly is unusual, it is still connected to the ocean.
From the platform, I could see the divers as they warmed up in the Blue Hole surrounded by freedivers of deep experience and abilities. Guillaume Nery and friends lounged beneath a parasol and William Trubridge and some school friends from New Zealand took in the competition barely fifteen metres away.
It has been a while since I have felt overwhelmingly positive about a competitive environment. But as I looked around me, I though, this is how it should always be.
More reports will follow with interviews with much more than just a daily report on depths and time achieved. I will be looking at the cultural phenomenon of this exceptional congregation of people around a small, but very deep and beautiful pond.
I will close with a new freediver joke from Christian Maldame:
Why do freedivers hold their breath?
To reduce their C02 emissions.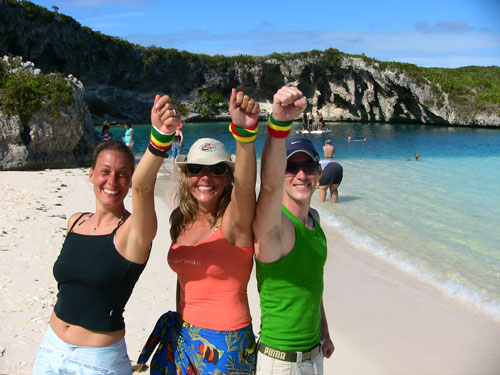 Up next tomorrow: Dave, Ryuzo and William Trubridge will all attempt dives over 100 metres. Canadian William Winram goes for 84m without fins and a new Canadian and World Record. And much, much more…
Next report: Thursday and Friday's competition results and "The Singing Mermaid and other stories."