Long Island, Bahamas — The warm and welcoming waters of Dean's Blue Hole are proving to be very conducive to freedivers from all around the globe. Yesterday no less than five new national records were set, including a Serbian CWT record from the super speedy Lena Jovanovic with a dive to 62m in 1 minute and :52 seconds flat. Freediving icon Eric Fattah established himself as the 9th deepest man in the world with a clean constant ballast dive to 104 meters, securing his Canadian national record in 3 minutes and :21 seconds. Niki Roderick of New Zealand and Carla-Sue Hanson of the United States, both delivered excellent CNF performances which were rewarded with white cards. See all of yesterdays results here.
Today's roster of accomplishments were equally as impressive and numerous. Spanish freediver Alfredo Roën executed a national record-setting dive to 50 meters in the discipline of constant no-fins. What's even more amazing is that this 50m CNF effort was only the second time Roën had ever even attempted this discipline at all!
Fresh off the heels (or shall we say tail) of his beautiful 102m CWT performance of the day before, Aussie great Walter Steyn captured yet another national record today for down-under with a solid CNF dive to 70m. Steyn is now placed at 10th (equal in line for all time) in the CNF discipline.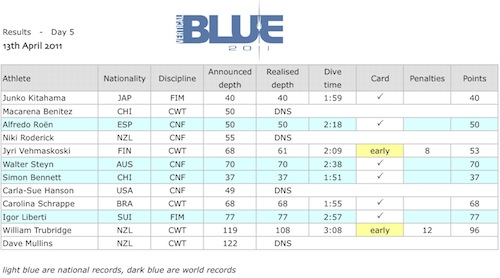 Simon Bennett and Igor Liberti both improved on their national records, registering 37m CNF and 77m FIM respectively. And fan favorites, Junko Kitahama and Carolina Schrappe both received white cards for their dives today. Stay tuned to DeeperBlue and check out Vertical Blue news for all of the latest updates.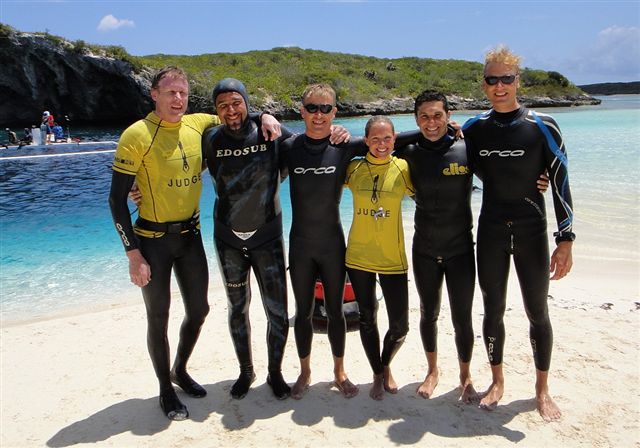 Left to Right in the above photo: Kimmo Lahtinen (AIDA Judge), Antonio Cavallo (Italian Saftey diver), Simon Bennett (NR Chile CNF 37m), Linden Wolbert (AIDA Judge), Alfredo Roën (NR Spain, CNF 50), Walter Steyn (NR Australia, CNF 70m)