Kalamata, Greece — AIDA's Education Officer and host of the 3rd Mediterannean World Cup, Stavros Kastrinakis, welcomes 21 nations to what may prove to be the largest international freediving competition of 2010. Over 60 athletes from around the world have descended on Greece and will dive in the 19°C waters off of Kalamata from June 7 – June 20. The Med Cup kicks off with one week of training followed by one week of competition in all depth disciplines with Ranking and World Record status. Sled diving will also be available.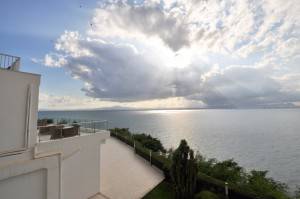 Top performers such as Guilluame Néry, Natalia Molchanova and Niki Roderick are just a few of the freedivers who will be participating. In addition to the training & competition, the event organizers have also arranged for a range of activities including an UW photo exhibition by Fred Buyle, a series of talks, UW film screenings, and more which will allow athletes to do more than "dive-eat-sleap".
The event organizers invite people to follow updates on Facebook and on the Greece Freediving-Club website.
DeeperBlue readers should also check out the well-written blog of Kerian Hibbs for a wonderful first-hand account of what is happening in the mediterranean. Kerian offers an athlete's view of the event set-up, his personal interactions, and for any freedivers who were not able to make the trip to Greece this summer a chance to live vicariously.
Photo courtesy of Kerian Hibbs