Miflex hoses are committed to supply the high quality products for the scuba diving market with the XTREME high performance range of diving hoses which has been developed in cooperation with expert divers for a superior in depth performance.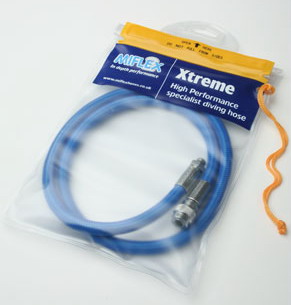 Being Xtreme-ly light & flexible Miflex hoses are available for Regulator and Jacket/BCD applications in Yellow, Blue and Black and come in re-usable packaging which you can be used as a water-proof bag.
Enter Competition Here
Question
Miflex Xtreme hoses are made to the highest quality and specification, with this in mind, what is the outer layer of the hose manufactured from, as stated on our technical data sheet
a) Rubber
b) Braided Polyester
c) Braided Nylon
Note:
The answer is on website and on our data sheet that is downloadable from the link
http://www.miflexhoses.co.uk/
. You can win one right now by emailing your correct answer to the question to
competitions@miflexhoses.co.uk
Eligibility
Anyone can enter from anywhere in the world. Just email your correct answer to win!
Closing Date
This competition will close at midnight on 29th February 2008.