As one can imagine, being the organizer of a growing consumer trade show can demand that you be in a thousand places at once.
DeeperBlue.com briefly chatted with champion spearfisherwoman and Blue Wild Ocean Adventure Expo organizer Sheri Daye, who said the number of exhibitors had gone up from 100 last year to 150 this year.
"We've had almost exponential growth with this show," Daye said, adding that she expected nearly 5,000 attendees, up from nearly 3,000 last year.
When asked about the differences between last year's expo and this year's, Daye said:
"I have purposely tried to round out the show; I mean, obviously I love spearfishing, I love the enthusiasm of spearfishers and all that, but I also want to make it a more well-rounded — I call it a watersport show, so I've had some stand-up paddle boards and kayaks and boats, which doesn't mean spearfishers [get less attention]. Actually, we have workshops on spearfishing from your kayak, even diving from your paddle board, you know, things like that, so I just tried to bring in different, related components of photography, videography, whatever your passion is in the water, I want you to be able to come here and feel that passion and have fun, too."
One of the new aspects of this year's expo was the outdoor section that featured demo pools, but that can still be a challenge, according to Daye.
"When you have an outdoor section weather can be an issue, and making the flow of traffic smooth between the inside and the outside, letting everybody know that there is a new outdoor section," she said, adding: "So when you do something new, you always worry how that's going to go over, . . . but I always have the core, very enthusiastic crowd and i love that. Their passion keeps me going with this show."
As for the reasons for having an outdoor section, Daye said:
"Some people kept suggesting that I have a pool to do different demos like the breath-hold contest and the kayak demo and things like that, so that got me started thinking, and I thought it was a great idea. Every show that I do I like to provide something new and something interesting for the people so it's not just the same old same old. I rotate the speakers, the topics and things, too."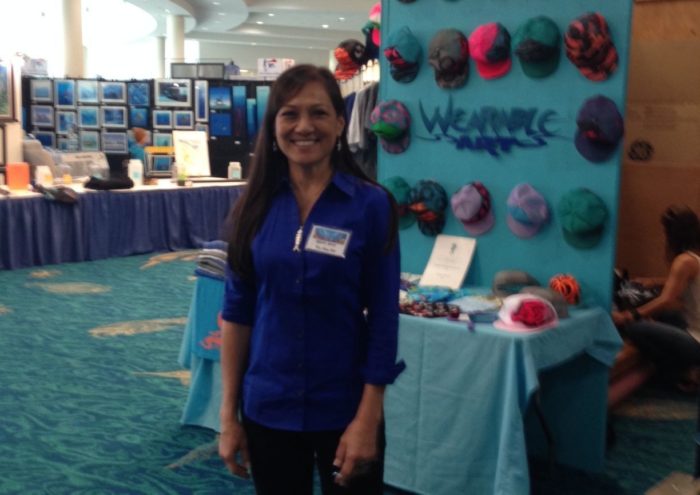 Get More Articles Like This!
Subscribe to our weekly newsletter and get more interesting stuff like this direct to your email inbox every Friday.