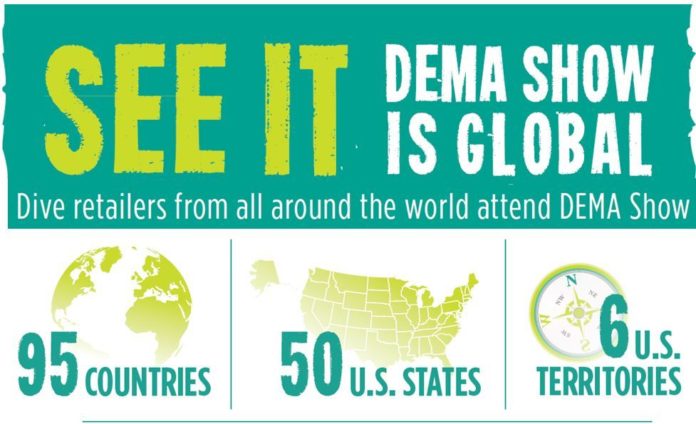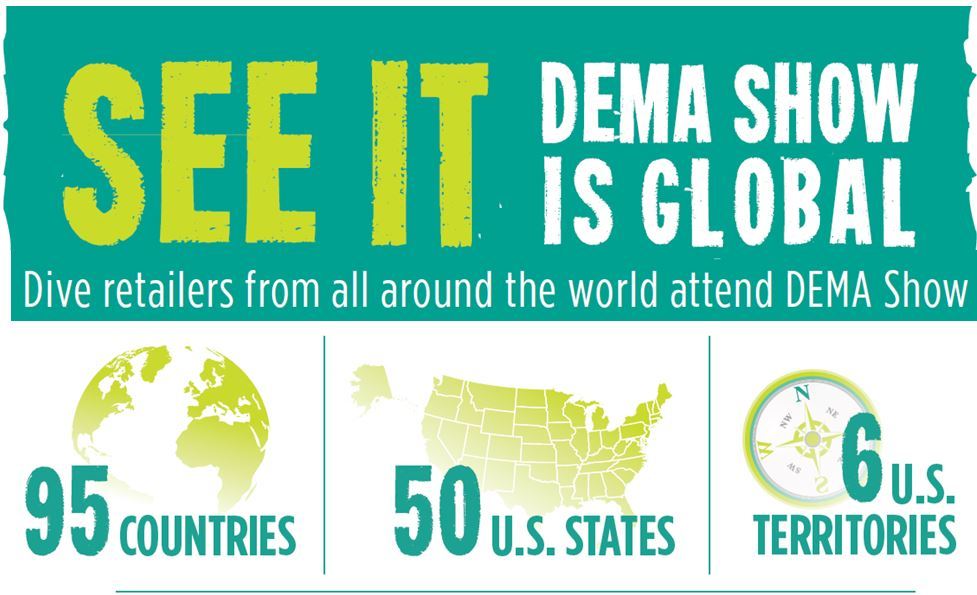 How would you like to come to the worlds largest international diving trade show? What about spending a few days in Orlando in November? Would you like the chance to meet legends from the scuba diving, freediving, spearfishing, technical diving and underwater imaging world? Or would you like to hang out with a bunch of your DeeperBlue.com friends and meet some of the team that helps run the site?
Well – now is your chance.
Every year we open up a couple of last minute places to attend and help out with us at this years Diving Equipment & Marketing Association (DEMA) Show in Orlando that is being held on between Weds 4th – Sat 7th November 2015.
The show is the global mecca for all things to do with Freediving, Scuba Diving, Spearfishing, Technical Diving and U/W Imaging and is normally the venue where manufacturers launch new products!
Helpers generally help us with our coverage of the event and provide help on our booth. We will pay for all your entry fees, provide you with some exclusive DeeperBlue.com goodies, give you lots of free time to hang out with legends in the diving industry.  You just need to get yourself to Orlando – if you need to stay over we have a couple of spare places in our official hotel rooms where some of the team are staying at $60 per person per night (sharing).
If you haven't attended before – the Show is FUN! You can read our extensive coverage, from 2002 though 2014, of the show over the years at https://www.deeperblue.com/category/dema-show/
Helpers are need for pretty much everything – we have our usual on-site reporting in conjunction with DEMA and their PR company if you feel up to that, or you could help man the booth we have – in the Freediving Resource Center.
People get tons of time to themselves and there are plenty of parties to attend if that's your thing.
DEMA Show 2015 Details
URL: DEMA Show
Dates: November 4 – November 7 2015
Location: Orange County Convention Center, Orlando, FL (USA)
You get a load of benefits from DeeperBlue.com for coming along:
all entry costs will be paid for (as a Media or Exhibitor Pass)
DeeperBlue.com goodies (such as stickers, T-Shirt, polo shirt, fleece and other cool stuff)
the opportunity to network with legends in the Diving industry and your fellow DeeperBlue.com enthusiasts and staff
lots of other diving goodies from around the show
staff drinks most nights
staff dinner one evening (normally a riot as people know!)
This is THE diving industry show to be at and well worth people attending. If you are interested drop us a line via https://www.deeperblue.com/contact-us/
Get More Articles Like This!
Subscribe to our weekly newsletter and get more interesting stuff like this direct to your email inbox every Friday.