To call attention to the threat that global warming poses for his island country, President MohamedNasheed of the Maldives has ordered his cabinet ministers to prepare tomeet underwater and sign an international treaty cutting greenhouse gasemissions.
Government officials have been scuba training to prepare themselves for the October 17 cabinet session. The idea of meeting underwater by President Nasheed follows his earlier declarationsto make the Maldives the world's first carbon neutral country within 10years, and also to find a new home for his 330,000 countrymen in the eventrising ocean levels flood the archipelago of 1,200 islands located inthe Indian Ocean. About 80% of the Maldives are only a meter above sealevel, and a UN study on climate change has warned that the countrycould become submerged by the beginning of the next century.
Ministers clad in wetsuits and shouldering compressed-air tanks,will meet about 20ft (6m) underwater on 17 October. They willcommunicate through hand gestures, according to Aminath Shauna, anofficial from the president's office.
"It is to send a message tothe world. The intention is to draw the attention of the world leadersto the issue of global warming and highlight how serious are thethreats faced by Maldives as a result," she said. "If we can stopclimate change, the lowest-lying nation on earth will be saved."
Thegathering will take place off the island of Girifushi, which lies about20 minutes' journey by speedboat from the capital, Male. One ministerhas already had to pull out: scuba instructors said the educationminister was not fit enough to take on the dive.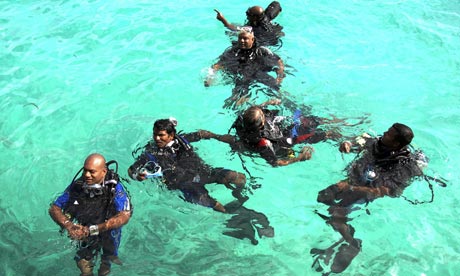 Photograph Associated Press