Maybe you tried shore diving and it just isn't for you, or perhaps you want to try some new sites that are too far away for a kick-out from. Inevitably you are going to want to give boat diving a try. It is a great way to add some new places to your dive log, and gives you the opportunity to meet fellow divers. Let's go over a few things that will help make this an enjoyable and memorable experience.
First of all, here's some boat "lingo" to get you warmed up. The front of the boat is the bow, the back is the stern, left side is port (remember the words "left" and "port" both have 4 letters) and right side is starboard. Now you can yell "Dolphins off the starboard bow!" and see how many people look in the right direction.
When making your reservation, check to see what is provided. Most dive boats routinely provide tanks and weights. You are responsible for bringing everything else. Rental gear may be available. Ask in advance if you anticipate you will need extra gear, or if you plan on diving with Nitrox. Upon arrival you will be required to fill out a liability form and sign a roster. Sometimes these can be downloaded from the boat's website and filled out ahead of time. We personally like to get there early, find a space, and set our gear up right away, especially if we know the boat is going to be full. And don't forget to bring your C-card – to show you are certified to dive. Determine ahead of time how much weight you plan on diving with. If you are not sure, estimate the best you can, then tell the dive master you would like to do a weight check next to the boat at the beginning of your first dive. If you are underweighted he can then hand extra weight to you.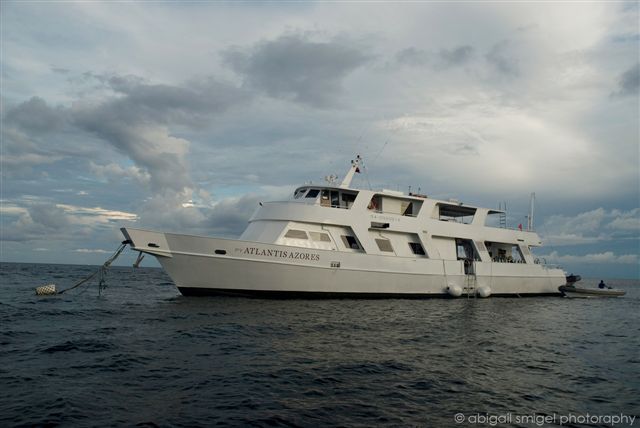 Typically there is a basket of weights of varying amounts located on the boat. It is up to you to find the appropriate weights and load them onto your belt or in your BCD. This can be a free for all as lots of hands search for their weights of choice. It's nice to have your weights "locked and loaded" ahead of time. The more prepared you are, the more relaxed you will feel.
Some dive operations do not provide a dive master to lead your actual dive. This is the most common practice in California. Dive masters here in So Cal give a thorough briefing before entering the water and make recommendations regarding dive profiles. If you are apprehensive, bring along an experienced dive buddy who is familiar with the area, or some boats will provide a guide for a fee with advanced notice. Solo divers typically get "buddied up" with one or two other divers. Talk with them and decide on your dive plan before you get in the water.
Label your stuff ahead of time. Things start to look the same when scattered about the boat. Most dive shops sell special markers for dive gear. I personally love the gold puffy pen, while Abi has a preference for neon colored cable ties. At the end of the dive when everyone is packing up, you will easily identify which gear is yours.
At the dive site, it is common to do a giant stride entry from the stern of the boat. Look like a pro and carry your fins with you as you make your way to the swim step. You can do your "Figure 4" fin application while hanging on to the rail, or sit down at the edge of the step. Remember to put air in your BCD before you take the plunge!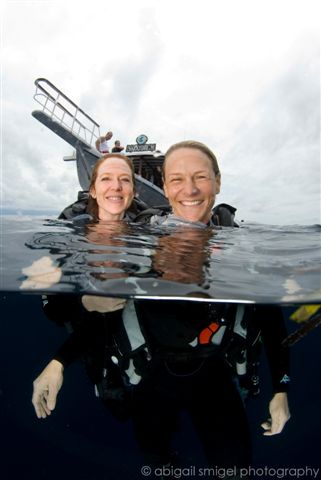 Here is our list of things we like to have with us when we pack up for a boat dive:
1. A Jacket. Depending on where you dive, it can get chilly during your surface interval. If you get cold easily, pack a beanie for your head.
2. A towel, sunscreen, lip balm, and a hat. Don't get sunburned soaking in the sun between dives.
3. A small dry box is handy for your phone, wallet, and cash for tips etc.
4. Dry Bag. Put anything you don't want wet in here. Ask your dive master where to stow your dry things when you board. Expect that anything near your dive gear, or on the floor will get wet.
5. A mesh bag. Stow it with your loose wet gear under the seat near your BCD. I like to keep my mask defog there also, readily accessible after each dive. Put small loose items like your mask, fins, gloves, and snorkel in after your last dive, so you can enjoy the ride back to the harbor knowing exactly where everything is.
6. Dive light and compass.
7. Surface whistle and a safety sausage. We always dive with these.
8. Snacks. Most dive operations offer beverages, snacks, and sometimes a light lunch like a sandwich or soup. If you have specific preferences or dietary needs you may want to bring a beverage or snack of your own.
A word about Seasickness. If you are prone to it, you might want to pre-dose with some Bonine or Dramamine. Even if there is the most remote possibility, or if you just aren't sure, pre-dose the night before. Nothing wrecks a dive trip more than the uncomfortable sensation of needing to barf. Dose up once the night before and then again at least an hour before you depart. Once you are out there and feeling queasy, it is too late. Be pro-active with this. Stay away from the exhaust. Get out in the open air. It's true, looking at the horizon helps. Take some deep breaths of fresh air. Don't be trying to manipulate your equipment and read the fine print on your computer manual . . . this will only make it worse. Have your gear prepared before the boat leaves the dock. Breathe in the fresh air during the trip out, and try to be one of the first ones in the water.
Lastly, your boat crew works hard to ensure your experience is a safe and pleasant one. It is always good karma to tip the crew. So don't forget to bring along some cash to let them know you appreciate their efforts.
We love boat diving. It provides a great opportunity to get to know other divers, and gives you access to some amazing dive sites and another way to enjoy the water.