The British Sub Aqua Club (BSAC) have just announced the launch of their new Forums. Based on the popular vBulletin software (same as the DB Forums incidentally) their aim was to bring a much needed update to the forums, along with additional functionality that is in the latest forum software.
"We knew that the old system was out of date and not meeting the needs of our members", stated Keith Lawrence, Head of Information Technology.  "I'm proud to say that this is all changing, thanks to the combined efforts of the IT and Forum Teams.  For the last umpteen months there has been a lot of work going on behind the scenes, consequently this is the first visible sign of what has been going on, and there's more to come.  I'm really excited that the contemporary Forums are now on line.  What we've done is install a brand new web server system, using the latest and probably the most popular forum software.  The result is a solution designed to provide divers with a quick, easy and fun way to communicate and find information.
We wanted something flexible, and that can grow and evolve as Member's needs change.  Our aim was to build and develop a range of dedicated forums for Branch Officers, Coaches, Instructors, BSAC Clubs, Members and others, with the key word being 'involvement'.  As all of the Forum Team dive, we were of one accord, that we wanted to empower our members. With this is mind we would really like each group to take ownership of their own forum.  So we've ramped up our commitment to online forums accordingly, and now provide divers with a solution tailored specifically to the needs of members and BSAC, but also has something for everyone interested in diving.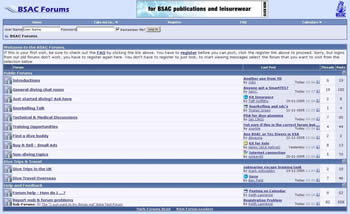 This is part of the long term strategy, a realisation, that my teams and I have had to change the way BSAC is using IT.  We want to improve the club and the facilities to its members, and give divers the IT solutions they deserve, want, need and desire.  The new forums are not the only thing that the BSAC IT Team is doing.  This is the first in a series of new and revitalised services that will integrate with our HQ systems, firmly establishing the BSAC as a 21st Century club with on-line solutions.  So why not got and check them out for yourself at www.bsacforum.co.uk"
Get More Articles Like This!
Subscribe to our weekly newsletter and get more interesting stuff like this direct to your email inbox every Friday.