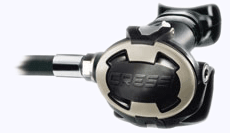 Cressi-sub is pleased to announce the introduction of a new Limited Lifetime Warranty for Regulators. The warranty is extended to the original purchaser of the regulator, and when maintained in accordance with instructions enclosed within the regulator packaging, provides for free service parts for the life of the original purchaser.
All Cressi-sub regulators will now carry a Limited Lifetime Warranty. The warranty is honored through Authorized Cressi-sub dealers as listed on the Cressi-sub USA website at: www.cressisubusa.com
"We feel we have perfected the next generation of regulator technology. This limited lifetime warranty is a direct reflection of the confidence we have in the durability and excellence of the entire Cressi-sub regulator line," says Bob Leite, Cressi-sub Sales Manager.
For more information, contact your local Cressi-sub dealer or sales representative.
Visit their website at www.cressisubusa.com
Get More Articles Like This!
Subscribe to our weekly newsletter and get more interesting stuff like this direct to your email inbox every Friday.