San Diego, CA – Don't miss your chance to "cache" in on DiveCaching by participating in DEMA's "Be A DiveCacher" video contest. Share your DiveCaching adventure from your favorite dive site today and have the opportunity to win the Grand Prize of $1,000.
DiveCaching is an underwater variation of "Geocaching," a decade-old game that uses a GPS device and simple search skills to locate hidden land-based caches. For more information about DiveCaching, including finding and hiding a cache visit www.DiveCaching.org. To enter now click here. Applicants will be required to complete the online contest form and upload a DiveCaching adventure video. Entries can be submitted now through September 28, 2011. Judging for the best DiveCaching video will be open for public vote from September 30 – October 21, 2011. The video receiving the most total votes by 11:59pm, Pacific Time on October 21, 2011, will be the grand prize winner. The runner up will be awarded a $250 American Express gift card and 3rd place will receive a $50 American Express gift card on behalf of DEMA. Winners will be announced on October 26, 2011.
Video entries must:
• Show entrant diving to find an underwater DiveCache as logged on www.geocaching.com.
• Include underwater footage.
• Have been created between January 1, 2011 and September 28, 2011.
• Be less than two minutes in length.
• Include content that is legally yours including all audio and background music (meaning you have purchased the rights).
• Not violate any third party rights.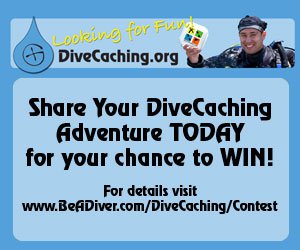 DEMA, the Diving Equipment & Marketing Association, is an international organization dedicated to the promotion and growth of the recreational scuba diving and snorkeling industry. With more than 1,400 business members, this non-profit, global organization promotes scuba diving through initiatives, consumer awareness programs and media campaigns, including the Be a Diver and DiveCaching campaigns, and produces the annual DEMA Show, a trade event open only to companies doing business in the scuba diving, action water sports and adventure/dive travel industries. DEMA Show 2011 will take place November 2-5, 2011 in Orlando, FL. For more information on DEMA Show visit www.demashow.com, join them on Facebook or follow DEMA at www.Twitter.com/DEMA_Show.