The world champion freediver and instructor Karol Meyer hosted several educational and adventure activities at Buddy Dive Resort in 2011.
During her time on Bonaire Karol hosted several activites:
Freediving clinics (International Certification)
Adventure freedives
Speech at Buddy Dive pool bar
Workshops "Breath and Apnea Tips"
Karol has, each year, provided a opportunity for students in Bonaire to increase their knowledge of freediving, and in the future the idea is to also offer the more advanced levels of training, providing people a safe way to learn and improve their freediving skills.
Amongst her students this year, she taught Jonathan Birds, Emmy Award winning producer and underwater cinematographer.
"I have been diving for almost 25 years now, so it's rare for a dive trip to completely change my perceptions of the sport." (Jonathan Birds words)
Karol Meyer was also invited to filming for his program called "Jonathan Bird's Blue World" showing the amazing Bonaire underwater world during her Freediving Clinic and Adventures.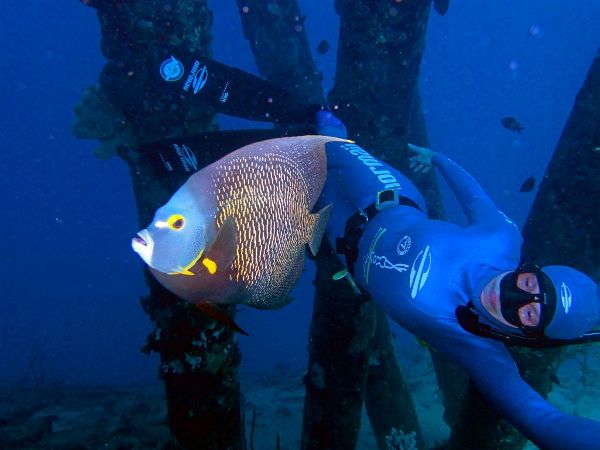 Karol Meyer was sponsorised by Mormaii, Buddy Dive Resort, Avianca, Insel Air, Bonaire Tourism Corporation, and had important partners: It's raining fishes, Spice Beach Club, DecoStop Magazine e BrasilMergulho.
Next year, on June 2012, she will return to Bonaire for more freediving activities!