Grand Cayman, Cayman Islands — Taking top honors on the final day of the Plantation Capital F3F Cayman Grand Prix was the team that proclaimed they were the deepest from the very beginning — the silver team known as Hell's Angelfish. The victorious Hell's Angelfish were crowned champions after several exciting days of underwater racing on Dive Xtras Cudas in the idyllic waters of Grand Cayman.
It is no suprise that a team comprised of the both the male and female winners of Deja Blue II, and the national record holder for constant ballast in the United States, raced into the finish line in first place. Ted Harty, an affiliate PFI instructor and founder of Immersion Freediving, and Carolina Schrappe, the national freediving champion of Brazil, both took first place in the overall Deja Blue II competition before they even started the race with their teammate Erin Magee, a staff instructor for PFI who was also fresh off her new national record of 80 meters CWT.
All three of the racers could not be happier and are looking forward to the next race, "Going through the gates at top speed and working together to garner a victory is all we ever wanted!" exclaimed Harty. A cash purse of $1,000.00 isn't too bad either.
Stay tuned to DeeperBlue and Performance Freediving International to hear about the next heat of races coming to a location near you.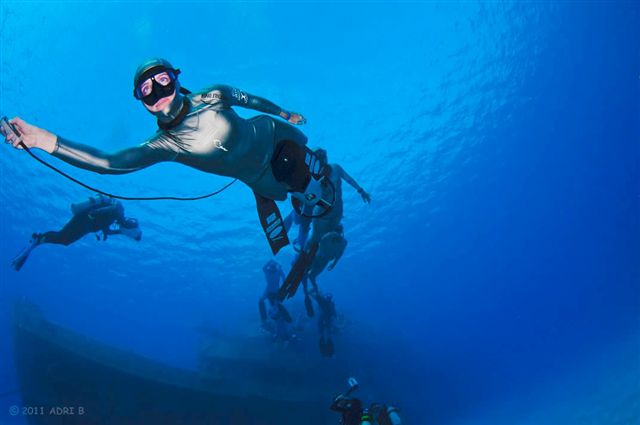 Day 3 of the Formula 3 Freediving Grand Prix in Grand Cayman! from Performance Freediving on Vimeo.
Photo courtesy of Adriana Freitas Brandao.