Press Release from Reef Jewelry:
The Shark Trust (www.sharktrust.org) received a generous donation of 22 diamonds from the Diamond Authority, De Beers, to commemorate the charity's 10th Anniversary. They hence commissioned diving jewellery experts, Reef Jewelry (www.reefjewelry.com) to create something special.
"As divers, shark welfare is close to our heart", stated Peter Barbarovich, Reef Jewelry's Designer, "so we were touched and honoured that The Shark Trust contacted us to discuss a unique commission of shark jewellery that will help raise funds for their valuable work. With the extinction clock minutes from midnight and ticking for many shark species, we wanted to design a heritage piece that would represent the fragile existence of our shark population. The resulting 18-carat yellow gold Mermaids Purse pendant seemed fitting for the occasion. Suspended from a bespoke handmade necklace, intricately set with the De Beer Diamonds, the Purse is bejewelled with Diamonds and Ruby's, which symbolise the precious life inside the egg case. The set is completed by a pair of hand crafted 18-carat yellow gold Earrings, each set with a solitaire diamond and ruby.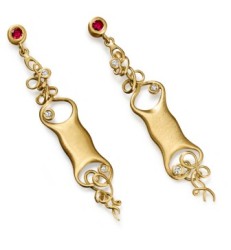 'The Mermaids Purse Ensemble' will be auctioned off at The Shark Trust's Gala Ball on Saturday 17th November at the Crown Moran Hotel, Cricklewood to help raise funds. Tickets are available for this from Glenys Heafield, on 01752 – 672 008".
Reef Jewelry was founded in 2001 as a desire by the Founder to create and reflect the oceans beauty in an art form.
The Shark Trust is the UK charity dedicated to the conservation, study and management of sharks, skates and rays.