Miflex Hoses, the manufacturer of the range of Xtreme high performance diving hoses are pleased to confirm the launch of their products in America, working with the established and successful company XS Scuba.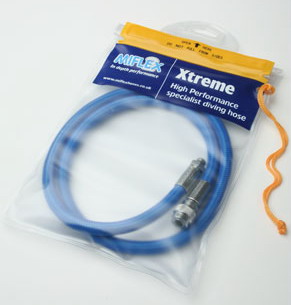 Developed in cooperation with expert divers, the Xtreme range of diving hoses have been developed by a team of Miflex engineers, analysing the weak points of traditional low-pressure rubber diving hoses.  The fruit of their research is the Miflex Xtreme range of high performance hoses.
Available in a wide range of lengths, for regulators and BCD quick-disconnect applications and in three colors: Black, Blue and hi-viz Yellow.
For further information:
XS Scuba
4021 W.Chandler Avenue
Santa Ana, CA 92704
Tel: 866.977.2822
Info: info@xsscuba.com
www.xsscuba.com