It looks like there is a new dive show starting up in the UK. The Big Dive Show 2011 is to be held in central London at the National Hall, Olympia in Kensington on 19-20 February 2011. The show is run by the team behind Dive Fest and DIVE Magazine – Circle Publishing.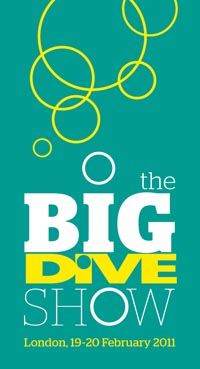 The Big Dive Show aims to bring together the very best in diving – everything from top trade stands and diving destinations to workshops, leading speakers, celebrities, interactive entertainment and activities. This seems more in line with the original objectives of the diving stands at The Outdoors Show in recent years rather than the more selling orientated shows run by Diver Group – The London International Dive Show (LIDS) and DIVE.
The British Sub Aqua Club (BSAC) has announced it will be an official launch partner of The Big Dive Show.
BSAC Chair Clare Peddie said she welcomed the opportunity for BSAC to be part of The Big Dive Show: "BSAC is delighted to be able to support such an exciting new event which is truly focused on what today's diver and underwater enthusiast wants. The Big Dive Show is set to provide fresh and exciting exhibits, activities and opportunities, not just for divers, their friends and families but for everyone interested in the marine world."
Graeme Gourlay, Circle Publishing managing director and organiser of The Big Dive Show, said: "It's great to have BSAC on board – we're going to lay on a fantastic show with lots of interest and activities for all divers, whatever their level of experience, so book the dates in your diaries now!"
This looks set to be an interesting addition to the UK Diving Calendar. We'll bring you more information once we have it.