Honaunau Bay, Kona, Hawaii — Australia's Jody Fisher is continuing her record-breaking spree. Having never trained depth before, Jody had a three-day crash course this month in equalizing and AIDA rules before completing a 41m no-fins dive in 1 minute and :42 seconds, followed by a free immersion dive to 44m a mere 20 minutes later at idyllic Honaunau Bay on the 1st of May. Fisher adeptly made each performance look easy. "I was a little nervous on my first CNF," she said, "and went rather fast! But overall the dive felt really comfortable and I'm looking forward to having more opportunities to train and compete later this year."
On May 6th, Jody scored a third record with a static of 5minutes and :31 seconds at Jack's Diving Locker, Kailua-Kona. The records were judged by the USA's Annabel Edwards, Carlos Mazo and Jessica Wilson, and equipment for the attempts was graciously provided by Deron Verbeck of Wild Hawaii Ocean Adventures.
Formerly a competitive swimmer, Fisher set two national records for dynamic (125m) and dynamic no fins (132m) this past February. Just 23 years of age, Jody is completely at ease in the water and shows enormous potential. "Because there are so many variables in depth diving, I wasn't sure how I would go," she said. "But now I'm feeling much more confident and can't wait for my next chance to extend the records further." Australia's champion freediver Walter Steyn commented, "As a beginner she's already achieving great results, so I'm looking forward to watching her development as she gains more experience." Jody now holds all of the Australian women's self-powered records except for Constant Weight, which she was unable to attempt, "it's a little hard to do the dive without a mono-fin," she laughed, "or dynamic for that matter. I'm hoping to get one in time for the AIDA World Championships."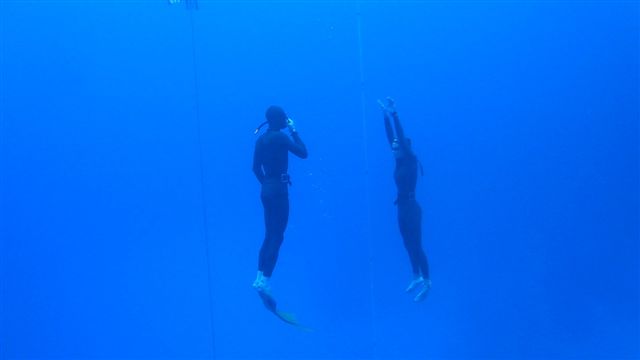 Video and photo courtesy of Hiko Ito.