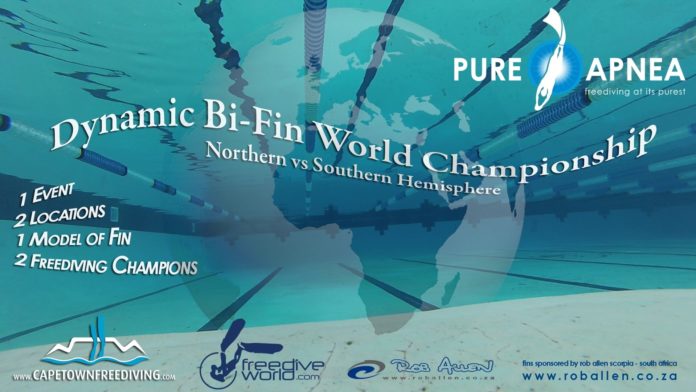 Pure Apnea has announced that it will hold a dynamic bi-fin freediving world championship competition this coming November.  Pure Apnea has announced itself as a new Freediving education and competitive agency – very much like AIDA International and CMAS.
The event will feature two competitions that will take place simultaneously — one in Brno, Czech Republic representing the Northern Hemisphere, and the other in Cape Town, South Africa representing the Southern Hemisphere.
Roman Ondruj (Freedive World) will be the head organizer of the Northern competition, while John Daines (Cape Town Freediving) with the assistance of the local 'Team Zissou' freediving training group will be organizing the Southern competition.
"The event will feature just one freediving discipline, Dynamic Apnea with Fins (Bi-fins). Pure Apnea will be pioneering a new concept for world record freediving competitions . . . a single make and model of bi-fins to be used by all competitors! We believe that this will level the playing field amongst the athletes."
Rob Allen will be providing sets of their Rob Allen Scorpia fins for all athletes to use at the competitions.
"The Pure Apnea Dynamic Bi-fin World Championship 2014 is scheduled for 8 November and more details on the individual competitions will be released shortly. The overall Men's and Ladies' winners from both events will be awarded the title of Dynamic Bi-fin World Champion for 2014 and have their performances ratified as new world records following clean doping tests."
Get More Articles Like This!
Subscribe to our weekly newsletter and get more interesting stuff like this direct to your email inbox every Friday.