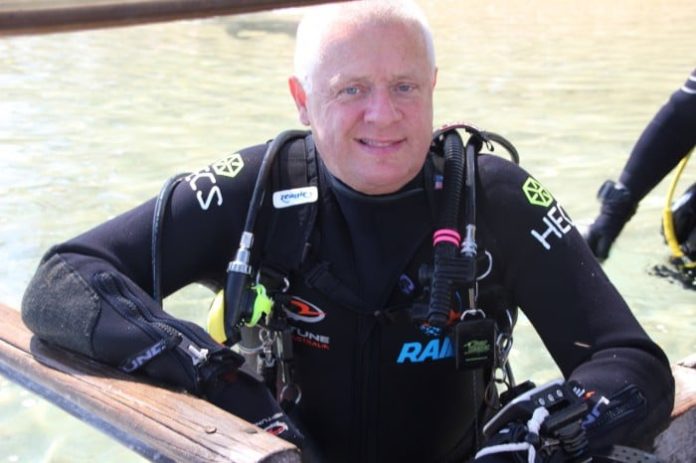 RAID International has appointed Australian Paralympic swimmer Bob Staddon as an "Honorary Advisor on Disabled Diving."
An Australian Navy veteran, Staddon suffered a severe spinal injury in 1980 while on shore leave in Jakarta, Indonesia, resulting in quadriplegia. Subsequent rehabilitation allowed him to regain partial use of his arms, and he went on to represent Australia as a Paralympian during that decade.
A scuba diver since 1990, Staddon is the first quadriplegic in Australia to earn an Advanced Open Water Diver Certification. He also holds certifications as a Marine Biology Diver, Stress Rescue Diver, Deep Diver, Wreck Diver, and Master Diver.
"Bob is one of the most remarkable and impressive individuals I have ever met," according to RAID International Director of Business and Marketing Terry Cummins. "He will be a great asset to RAID as we see more and more challenged divers try scuba diving not only as a means of rehabilitation, but as a sport they can really participate in."
Staddon has logged more than 900 dives and is a developing an interest in cave and CCR diving. He has also organized charity dives.
"I do not really care what business, dive shop or training agency you prefer, I am all about diving and helping anyone in the sport and industry," Staddon says.
Jim Holliday, CEO of RAID International, described what Staddon's role with RAID would be:
"In his role with RAID, amongst other things, Bob will review new RAID Courses and modifications to existing ones, from a perspective we feel no other training agency has ever considered. There is absolutely no reason, given the right considerations, that a large number of disabled and challenged people could not scuba dive. This includes victims of all sorts of misfortunes, sporting accidents and those wounded whilst serving their country."
Get More Articles Like This!
Subscribe to our weekly newsletter and get more interesting stuff like this direct to your email inbox every Friday.