Kalamata, Greece — Robert King set a new men's national record for the United States in the freediving discipline of Constant Weight No Fins (CNF) to a depth of 70 meters / 230 feet, on the opening day of the 2011 AIDA Individual Depth Freediving World Championships.
Rob's dive took two minutes and :52 seconds to complete. He broke his own record of 68m that he just set only days before at the 2011 Mediterranean Cup. Arriving in Greece a week early prior to the competition, Rob has spent a good deal of time preparing for the World Championships.
While some afficianados say that King has been dominating US Freediving for the last few years, a recent spade of new athletes have come into the sport to challenge him. And Rob heartily welcomes the competition. Rob said, "Most of all, I'm pleased to bring home a 6th place finish for US Freediving in Constant No Fins. There were a number of impressive performances today, among them Michal Risian (Czech Republic) diving to 84m, and Morgan Bourc's dive to 80m to take France's CNF record from Guillaume Nery (who looked proud to see his friend set the new record)."
Rob continues, "I'd like to dedicate this record to my father Fred King, who was an avid breath hold diver and SCUBA diver (and from whom I got any innate diving abilities). I'd like again to thank William Winram for his coaching and support, and Grant Graves for his continuing contribution to US Freediving. Finally, kudos to Stavros Kastrinakis, Freediving Club Greece and the City of Kalamata for organizing a well run competition, with over 160 athletes (the most ever)."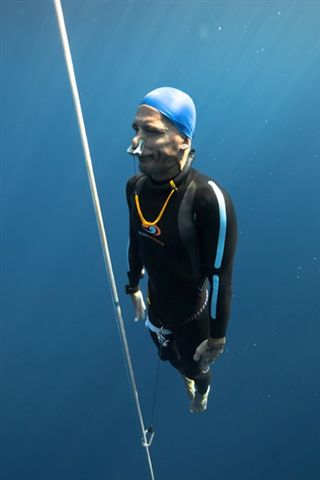 DeeperBlue congratulates Rob King on a terrific performance.
Photo courtesy of Fred Buyle – copyright Nektos.net