Sacrificed in a Revival of Cannibalism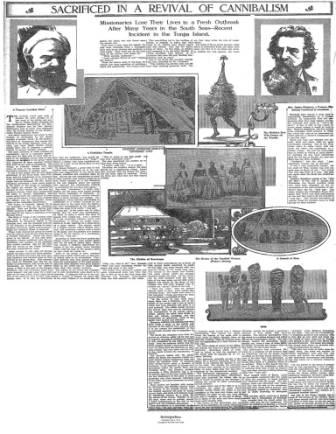 Sowas written an article in the New York Times, 8th May 1910. Two Presbyterian missionaries werecaptured and eaten by local Tongans, where some of the earliest and mostsuccess attempts of missionary work were done. The Kingdomof Tonga, or Friendly Islands, as theywere known decades ago lie south to Fiji on the 20th parallel. Theywere acquired by the British in 1899, when Great Britain ceded all her rights to Germany in theSamoan group. Today, Tongais the only sovereign monarchy among the island nations of the Pacific Ocean, as well as being the only island nationnever to have been formally colonized. Fortunately, incidents ofcannibalism in the Pacific Islands no longer reachthe press or have been recorded since 1957.
Tongais an archipelago in the south Pacific Ocean comprising 171 islands, 48 of theminhabited, stretching over a distance of about 800 kilometres (500miles) in a north-south line. The islands lie south of Samoa and are aboutone-third of the way from New Zealandto Hawaii. The word tonga means 'south' in the Tongan language, an apt name for the islands as they arethe southernmost group of all neighbouring Polynesian islands. The word tonga ispronounced with the ng rolled together like sing.
Onewould wonder why a person would travel for 2 days to reach such a destination.If you're flying out of Dubai, you have to flyto New Zealandand then take a flight to the capital, Nuku'alofa which is on Tongatapu. We then took two internal flights to reach our destination, the island of Ha'apai. After hours oftravelling, changing of planes and making a million excuses for the weight ofmy hand luggage, reaching Ha'apai was like landing in heaven itself,almost. They have to chase the pigs off the runway before planes canland, in fact, I have never seen a country with so many free range pigs runninground everywhere. Pigs in Tongarun amock, cause accidents, they are strewn about gardens, streets, fields, andseem to breed countless offspring that run wildly across the bumpy lanes whilethe adults seem to lay out on lawns lazing in the sun like tourists on theFrench Riviera.
Haapai Airport
Wewere picked up at the airport by the co-owner of our resort, Dave, who hadabout 20 boxes of fresh bread in the back of his 4×4 and explained that oneshould make the most of trips "to town". This comment alone made us realize that wewere indeed far from civilization, supermarkets, shops, malls and other day today amenities that we take for granted. Fantastic! We threw our bags inthe back and Dave drove us to our resort, MatafonuaLodge on the island of Foa, deftly avoidingpot holes in the road, while the scent of fresh bread played with our senses. It was clear already that dieting was not going to be on the agenda for thenext 10 days.
Aftermany years of living in the ever growing and fast paced Middle East and Asia, adestination like Tongaseems like one of those countries you could only dream about. The beaches arenatural, without a dredger or plastic water bottle in sight. Even the Maldivian islands have fallensuccumb to massive dredging projects and some are losing their naturalbeauty. Here, there was no oil, no "plasticbag trees", no remnants of construction floating in the water, and in fact,there was nothing but white sand on the beach and crystal clear sea waterlapping up the edges. There were no empty cans of Coke, no old shoes, no emptypackets of KFC or leftover Macdonalds thrown on the beach, it was just sheervirgin white beach with pristine blue water, and it left me speechless, whichin itself is a feat. No man can createthis paradise. This can only be sketched in an artist's mind, painted on acanvas, imagined, dreamed, or splashed in watercolours, but there is no waythat be reproduced. Upon first sight ofthe beach, it was raining and cloudy, but even so the crystalline waters shoneand displayed seemingly untouched waters. My travel and freedive buddy Rebecca Scott,and I, stood on the beach gaping. We picked up sand and let it flow through ourfingers, and stared out to sea at neighbouring islands. It was time to discover, explore, and alsorest.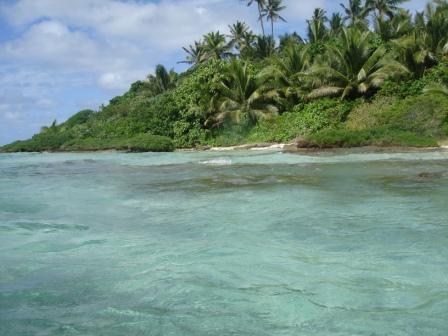 One of the beaches on Matafonua
Theplants and fields of jungle were filled with indigenous plants and huge bananasthat grew naturally with the natural resources of abundant rain and mineralwealth of the soil. Hidden within thedense vegetation of the northern tip of Haapai, on Foa Island,Matafonua Lodge sat quietly and unobtrusively,. Matafonua is an eco-friendly resort, and theydo not brag about it, they just do it. Lip-serviceto conserving the environment is not part of their language. New ZealandersDave and Sally were doing things right, and as much as possible. The water was heated by solar panels, andthey had a back up generator as local power supply can vary in reliability. Wehad a power cut one afternoon and it was gently raining. In spite of the lowpower supply, Sally and her team pushed on in the kitchen with the generatorpower, Dave pulled down the clear blinds so we could all still enjoy the oceanview from the restaurant verandah while protected from the winter wind. Redwine flowed and kept us warm as did the beautiful smiles of the Tongan chefsand the resort dog Tui, at our feet. Theshowers in the ablution block are low pressure to save water, the lighting isminimal and there is no air conditioning, just open vents in the walls to allowair flow. We may have shared the showerroom with a spider or two, but this was just a reminder that we were off thebeaten track.
Thefirst sign of environmental consciousness was seen in the building of their newbeach bar. Every glass bottle consumed in their establishment was saved andthen broken up and used for aggregate. The beaches surrounding their resortwere kept clean, the gardens are natural and little irrigation is needed tokeep the beauty of the local plants and trees lush. Drinking water was served in recycled bottlesand the need for plastic was minimal. The resort was not pretentious; theaccommodation was made up of simple "fales" which are small woodenbungalows on stilts with an open air verandah, twin beds and the basicessentials. Sheets, blankets, mosquito nets and coils, drinking water wereprovided. The windows were louvered andallowed for natural "air conditioning" throughout the night. Needless to say our sinuses cleared withindays and the feeling of polluted skin disappeared within a day or two. The ablutions are communal, and the sunnierthe day, the hotter the water. The sound of the waves crashing over the soundrocked us to sleep at night, and the whistle of the wind through the islandswas a lullaby before sleep. This was agetaway indeed.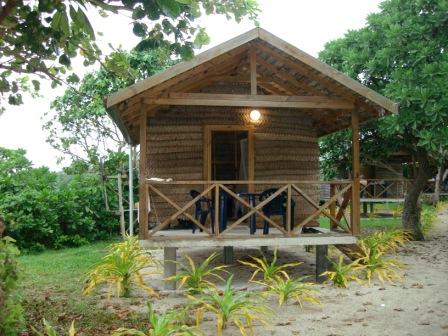 Fale at Matafonua
Themain reason for our visit in July, was that it is humpback whale season.Humpback whales visit Tongaduring the winter months, to train their calves and prepare them for the triphome again to the Antarctica. The mothersstarve during these months as there is little to feed on in the gin clearwaters of Tonga.Tongawas the first South Pacific nation to set aside marine reserves, and pridethemselves on responsible behaviour towards the animals. We did two trips with Happy Ha`apai Divers/Ocean Blue Adventures who arebased from Sandy Beach Resort. SandyBeach Resort staff and owners were particularly unfriendly and shooedsunbathers away from their "private" beach, but the dive centre has a wholedifferent personality.
The owner Glenn Edney who seems to be a bit of legend, ran whale watching trips from his catamaran, Katnapp. He used as little motor power as possible andmaximizes the potential of his sails when he can. Edney was very knowledgeable on humpbacks, andhas been interacting and photographing them for years. He said with the thrill of diving andinteracting with whales came a responsibility, both on the part of the whalewatch operator and those who use their services. The responsibility lies in theneed to protect these magnificent creatures and their environment from overexploitation.
Onone of trips with Ocean Blue Adventures there was a large family with smallchildren, itching to snorkel with the whales. In this particular instance, Glenn did not feel comfortable enough toallow them in the water near the whales and therefore only allowed viewing fromthe boat. Even though we were all prepared with snorkeling gear and psyched toget in the water, I fully respected his decision, even though my dive buddy andI were fully capable of acting responsibly around the whales.
We watched from a distance, as a mother and atwo day old calf swam warily past our boat. We saw males head thrusting and lots of tails waving in the distance. Weunfortunately could not get close enough. Apparently we had come to Tonga at the beginning of the whaleseason and the best time would have been end of July or mid-August. We were also hit with bad weather almost thewhole week, and had missed a pod of whales the week before. It really was luckof the draw. The catamaran was followedby an oceanic white tip shark for some distance, but reef sharks however, werenot apparent.
Whale (Haapai)
Onthe days when we weren't whale watching, we freedived. There was no need to pay for scuba diving, asthe ocean world was at the tips of our fins. High volcanic and low limestoneislands characterize the Ha'apai.
One of the many island scenes from a boat (Haapai)
The reef types comprise reef communities,fringing, barrier and lagoon reefs. Some island types are basically volcanicsome of which are active but most are composed of non-calcareous rock. The high limestone islands represent oldcoral reef accretion, which has been uplifted and aerially eroded. There are 192 species of scleractinian coralsdescribed from the reefs around Tonga. Surveys have concentrated on the marinepark areas. 229 species of fish were found in 39 families in the reefs aroundTongatapu. Hakaumama'o Reef Reserve showed the greatest diversity with 127species in 28 families. The most common families are the Labridae andPomacentridae. Reef Fish of Tonga (Smithsonian Institute, 1993) provideinformation on the fishes of the Kingdom. There have also been described 55 species of bivalves and 83 species ofgastropods from 3 different habitats: seagrass bed, coral reef, and sand. Coral bommies (pinnacles) were teaming withfish life and massive table corals were just a swim away from the beach. The corals were healthy and laid in differentcolours like stacked plates down the reef edge, and there are 50 fish speciesnamed in Tongain their local language.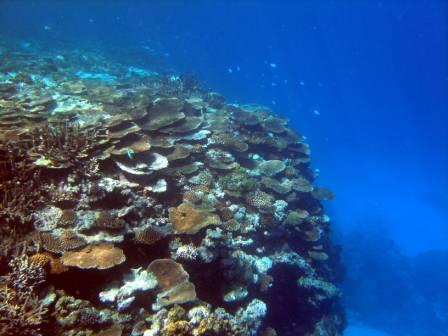 Typical coral reef off Haapai
Twogiant clam species, Tridacna gigas and Hippopus hippopus, were re-introducedinto Tongain 1990 and 1991. Both species are believed to have become locally extinct. Thegiant clam project started in Tongawith the creation of clam circles in 1986. Clam circles were created by theMinistry of Lands, Survey and Natural Resources in an attempt to revitalize thestocks of these animals. Several community giant clam sanctuaries wereinitiated, and one of these can be dived (snorkeling only) from Haapai.
Therehas been some over-fishing for invertebrates for export from several Pacific Island countries recently, but even thisis not entirely new. The current boom in bêche-de-mer fishing was paralleled bysimilar events in the early 19th century in Melanesia,and the pearl shell export fisheries of yesteryear sometimes far exceeded theirmodern equivalents in volume. Damagingfishing methods such as dynamite and poisons, despite being in reportedlywidespread use in South East Asia, are not a common feature yet of PacificIsland fisheries, where a more custodial attitude prevails towards traditionalreef resources. One of the most unselective and habitat-damaging fishing methods,trawling, is not currently economically possible over the vast majority ofPacific Island coastal water due to the lack of the extensive soft substratescharacteristic of large estuaries and continental shelves. Pacific Islandcoastal fisheries are almost entirely coral reef fisheries.
On a wander around the island, we saw a local spearfisherman preparing for a swim. He used his shoes as a float and was sporting the old round mask style and wore Jet Fins. and a homemade pole spear.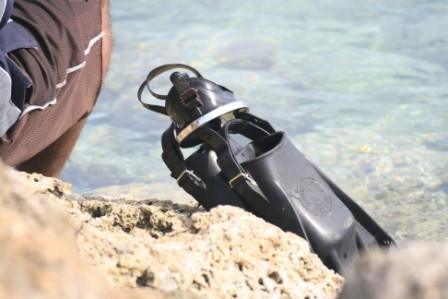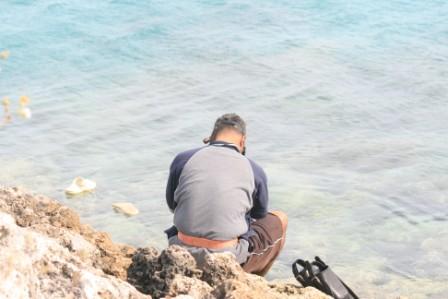 Local Spearo
It is written that Pacific Island reeffisheries are probably in much better shape overall than most other fisheriesin the world, and this is in part due to the ingrained traditional nature ofthe community management of these fisheries.[1] The coral reefs therefore, are intact andappear little if not at all damaged by divers and swimmers.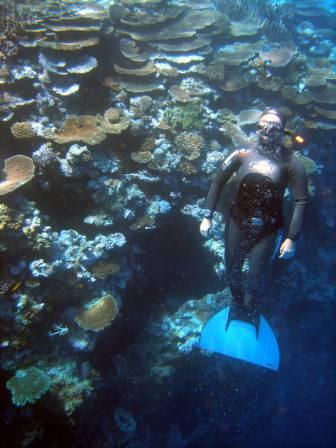 Freediving off Foa
Thecurrents were particularly strong on some days, so we started our swim at oneend of the island and "drift snorkelled" at a tremendous pace to the otherside. It was truly exhilarating. Being the winter months, the water was 24 degC and the wind was slightly chilly. Thisdid have an advantage however, as the cooler temperatures allowed for us toenjoy exercise and we rented a kayak and paddled across the ocean to the nextisland, against the wind and across the current. The return journey was a welcome breeze withthe wind pushing us forward and the current taking us back to the oppositeshore. Experiences like these cannot beemulated in any water park. The beautyof the colours of the ocean, the scent of the islands and the balmy air are acure for any form of executive stress.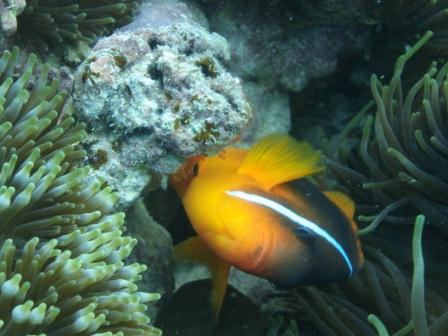 Anemone fish laying eggs (Matafonua)
Onthe island of Foa we noticed many churches, mainlyowned, run and paid for by Mormons. Religion seemed to play a very important part in the life of theTongans. Graveyards are heavily decorated in flowers, fairy lights,plants, and photographs, and Sunday ceremonies are a must do, just to hear thelocal choir. According to a survey done by their own church statistics, Mormonsclaim 48 percent of the population to substantiate their claim that Tonga is themost Mormon nation in the world.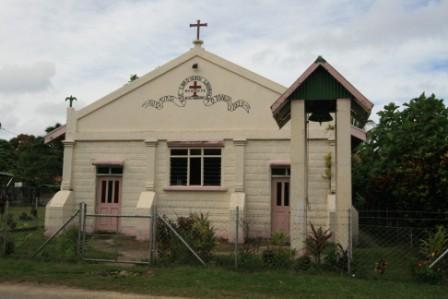 Local church on Foa
Everyday life is heavily influenced by Polynesian traditions and especially bythe Christian faith; for example, all commerce and entertainment activitiescease from midnight Saturday until midnight Sunday, and the constitutiondeclares the Sabbath to be sacred, forever. We attended a church service out of interest, and men and women comedressed up in the traditional grass skirt, pay their dues to the church and alldonations get recorded with your name and amount. The total balance of theChurch's fund is read out to the community and the community is kept abreast ofthe expenditure. We paid our dues aswell and our names were recorded. Perhaps that will keep us in good stead for our next visit.
Inthe evenings we sat outside on the verandah and ate home cooked food preparedby Sally and her staff, listened to other diver's war stories including somefreedivers bragging about 4 minute breath hold times. We giggled, unwound, and felt at home. Some Tongans came around, cooked local food, andbrought local musicians and dancers. The dancers oiled their bodies withjasmine and ylang ylang oil and while they danced, the audience stuck money onthem, according to local tradition. Theydanced daintily in woven grass skirts, their dark eyes shining in the dim lightof the verandah hiding island secrets of the past, the chanting of the singersharmonized with the whirring of the wind in the surrounding palms and themodern world was forgotten. We were back in 1910 and emotions were stirred, oursouls was shaken and we were immersed totally in the land that time forgot.

Mohe ā (Sweet dreams)
1] Adams,T. J. H. and P. J. Dalzell (1996) Management of Pacific IslandInshore Fisheries