Apnea Academy is gathering some of the top FreeDivers, Spearfishermen and Researchers for the International Conference "Apnea Training" to be held in Lignano Sabbiadoro, Italy on the 1st and 2nd December 2007. The speakers will bring their vast knowledge and experience together to discuss training techniques and theory for both freediving and spearfishing. The conference will close with a reasoned summary of the issues discussed that could serve as general guideline for the future.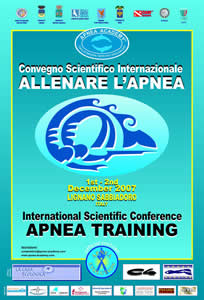 During the two-day session the participants will have the opportunity to interact, discuss and question all the champions, coaches and scientists: in particular, on Saturday afternoon, from 5 pm to 8 pm, the olympic swimming pool of the GeTur centre will be open to let athletes and participants hold a training session and try the different equipment available.
On Saturday evening, from 9.30 pm to 11.30 pm, all the athletes will show their most significant videos and answer the public's questions. One of the aims of the Conference, in fact, is to create the opportunity for quality exchange.
Apnea Academy is organising the event, which aims to fill the cultural vacuum that still exists in the world of freediving and spearfishing.
Everybody is invited: professional and amateur spearfishermen and freedivers, technicians and trainers, individual athletes and all the sporting organisations and associations that deal with apnea.
The chairman of the discussion will be Umberto Pelizzari, supported by all his staff.
The official language of the Conference will be English and Italian.
Further information, a program of the event and an application form are all available on the official Apnea Academy website: www.apnea-academy.com or directly via the link www.apnea-academy.com/training