You might call it "Clash of the Titans" or the most anticipated freediving competition we've seen in years, but either way William Trubridge's annual apnea affair — Vertical Blue — promises to be a fantastic gathering of world-class athletes.
Freedivers from over 16 different countries will descend upon Deans' Blue Hole in the Bahamas this April. The event will occur for nine days between April 17-27 and will showcase three main disciplines of FIM, CNF, CWT. The performance of each discipline will be conducted for two consecutive days, with a planned day of rest in-between each phase, to allow all of the athletes proper recovery time. Some of the participating athletes share an astounding 58 records – with Martin Stepanek and Herbert Nitsch leading that pack.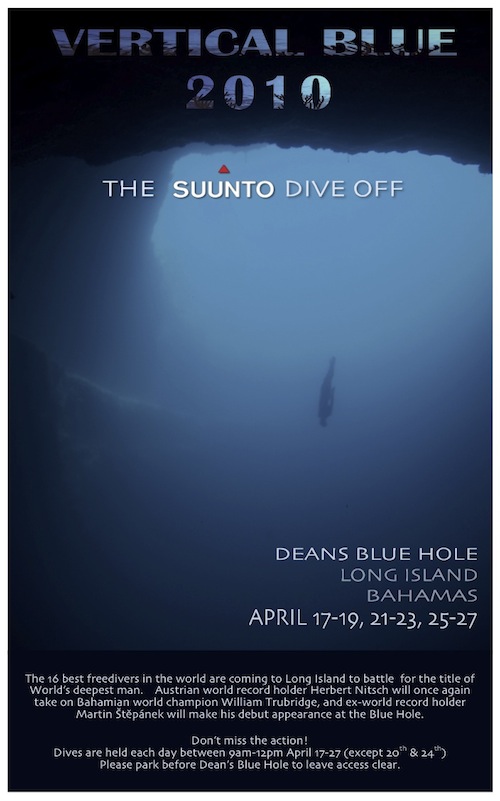 The announced list of athletes for the Vertical Blue 2010 Suunto Dive-Off are:
Eric Fattah
Carla-Sue Hanson
Misuzu Hirai
Robert King
Dave Mullins
Guillaume Nery
Herbert Nitsch
Frank Pernett
Niki Roderick
Alfredo Romo
Jared Schmelzer
Ryuzo Shinomiya
Martin Stepanek
Walter Steyn
William Trubridge
William Winram
William Trubridge and his wife Brittany are the organizers of the event.