Sharks are one of the top predators in the marine food chain and play an important role in our ocean's ecosystem. Sharks have characteristics that make them more vulnerable to overfishing than most fish, and data from state, federal, and international agencies show a decline in the shark populations both locally and worldwide. Yesterday, the state of Hawaii took a big step forward to ban the sale, possession, distribution of shark fins and any shark harvest in Hawaii. The Hawaiian Bill 2169 passed in a conference session with a unanimous YES vote. The bill will be moving to the state House and Senate on Friday for completion.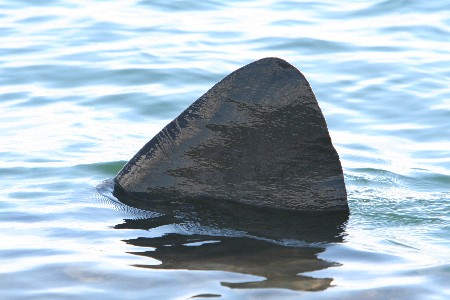 Unlike other fish species, most sharks do not reach sexual maturity until seven to twelve years of age and then only give birth to a small litter of young. Thus, sharks cannot rebuild their populations quickly once they are overfished. It is critical that all nations look at banning the inhumane and wasteful practice of shark finning and do more to enforce protections of these endangered apex predators. Sharks are are essential for sustaining healthy marine ecosystems.
Read more about Hawaii's complete and revised Shark Fin Bill SB 2160 bill here.
Photo by M. Gore.