On Wednesday April 21, 2010 Brazilian freediver Carolina Schrappe succesfully set a new national record in the freediving discipline of constant weight. Executing a perfect dive to 69 meters, Carolina beat the previous Brazilian CWT record of 68m that she set herself in May of 2009 at the PFI Cayman competition. Carolina's new 69 meter CWT dive took one minute and 58 seconds to complete. When she broke the surface and completed her surafce protocol everything was as they say in portugese tudo bem!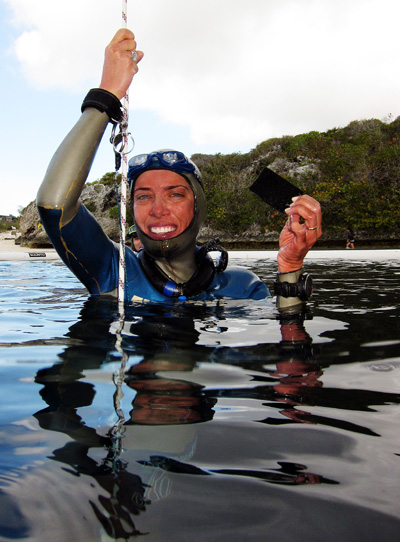 Carolina Schrappe is one of only four female freedivers competing at Vertical Blue 2010. This is Carolina's inaugural appearance at William Trubridge's annual competition in Dean's Blue Hole.
If Schrappe continues a string of strong performances, it is expected that she will rank among the top 10 women in the world in disciplines with and without fins.
Watch Carolina's CWT dive from Cayman 2009 here below.
Photo courtesy of Grant Graves.